Greer's Blog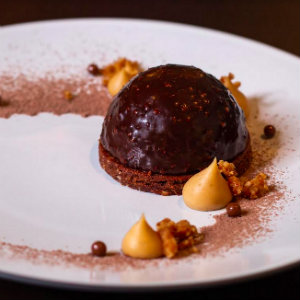 12.27.19
Ring in 2020 with a one-of-a-kind dinner experience at Henry's Ocean View Dining located inside The Waterfont Beach Resort in Huntington Beach. On Tuesday, December 31, guests are invited to indulge in a seasonal six-course tasting menu made from the highest quality, locally-sourced ingredients from both farm and sea. The meal also includes California-centric wine pairings, hand-selected by the restaurant's award-winning team to accompany each dish.
1st- Fried Forest Mushrooms
Batter Fried Forest Mushroom | Beet Puree | Powdered Kale
2017 The Setting Sauvignon Blanc – Napa Valley - California
2nd- Lobster Tail
Sous Vide Lobster Tail | Lobster Shell Emulsion | Salsify | Chervil
2016 Domaine Niellion, Chassagne-Montrachet - France
3rd- Duck Confit Tortellini
Duck Consume | Brunoised Kohlrabi | Lightly Roasted Carrots
2016 Charton Mercury 1er Cru, Burgundy - France
4th- Napa Valley Lamb Tenderloin
Lamb Tenderloin wrapped in Grape Leave | Pickled Grapes | Grape Moonshine and Red Wine Reduction | Magic Mryna Potato
2016 Silver Ghost Cabernet Sauvignon – Napa Valley - California
5th (1st dessert) - Framboise Beer Panna Cotta
Framboise Beer & Lemon Panna Cotta | Macerated Berries
Inniskillin Cabernet Franc Icewine – NV - Canada
6th (2nd dessert) - Date Cake
Date Cake | Orange Dark Chocolate Creamy | Amarena Cherry Gelato
Henry's Espresso Cordial – House Made - RR
This festive 6-course experience is available for $200 per person (plus tax and gratuity) and reservations must be made in advance. The cost includes all wine pairings as well as a complimentary ticket to the NYE After Party (valued at $125) which will be held in the resort's Breakwater Ballroom from 9 p.m. to 1 a.m.
Reservations are available starting at 5 p.m. with a maximum party size of six (6) guests, and the last party must be seated by 9 p.m. Space is limited, as only 40 spots are available for this experience; A total of ten (10) guests will be seated per hour. A credit card will be required when making reservations and any cancellations not made within 48 hours of the event will result in a $35 per person fee. All reservations will be handled exclusively through the restaurant's in-room dining department. For more information or to make a reservation, please call 714.845.8000 ext. 2210.
The Waterfront Beach Resort is at 2110 Pacific Coast Highway in Huntington Beach. 714.845-8000 ext. 2210
---
More Greer