Greer's Blog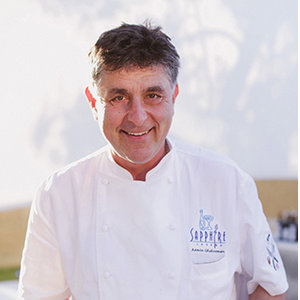 02.19.20
Chef and owner Azmin Ghahreman will be transitioning ownership Sapphire Laguna after 13 years. "My team and I have made countless memories and created a special bond with so many guests, as well as with the beautiful community of Laguna Beach," Chef Azmin said.
"I have made the difficult decision to transition ownership of Sapphire Laguna Restaurant and Pantry into the capable hands of restaurateur Russ Bendel. As owner of Vine Restaurant in San Clemente, Ironwood in Laguna Hills, and Olea in Newport Beach, Russ is a respected restaurant industry veteran, and someone I know will build on the tradition of Sapphire Laguna Restaurant and Pantry. He will make minor enhancements and rename the restaurant Sapphire, Cellar. Craft. Cook.
I will be passing the torch to Russ in early March, when I will focus all of my attention on Sapphire Culinary Group, including my Sapphire at School and Sapphire at Work programs, and some exciting new projects I look forward to sharing with the public.
I want to thank all of our loyal guests for helping Sapphire Laguna thrive for 13 years now, and I encourage them to enjoy Sapphire, Cellar. Craft. Cook. when Russ and his colleagues reopen in early April. This restaurant will always hold a very special place in my heart."
1200 S Coast Hwy #105B, Laguna Beach.
---
More Greer