Greer's Blog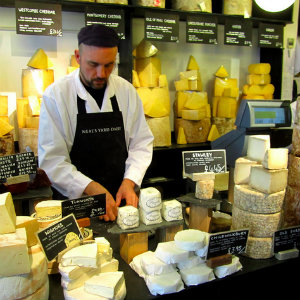 01.09.18
For cheddar aficionados and those who would love to experience England in true Downton Abbey-fashion, Cheese Journeys is headed to Britain for a nine-day tour to explore all the culinary sensations that London, Somerset, and Devon have to offer. Cheese Journeys will immerse cheese enthusiasts in British culinary culture as they travel from the capital city to England's southwest cheese-producing regions from May 3 – 12, to encounter renowned cheesemakers and affineurs, including the iconic "cheddar families": Montgomery, Quicke, and Westcombe, which have been perfecting their craft for centuries.
The adventure begins in London, visiting Neal's Yard Dairy, one of Europe's most inspiring retailers and global wholesale distributors, complete with its own cheese-aging caves, unveiling the complex world of selecting, maturating, and exporting of Britain's farmhouse cheeses. A backdoor tour through the passageways of world-famous Borough Market – part of the city's gastronomic scene near London Bridge – will be complemented by a cheese pairing class with a selection of England's finest whiskeys.
Departing the city, travelers will head to Devon, the breadbasket of England, for a three-night stay at Wolborough House, a seaside estate, perched above the English Riviera, in Brixham, known for its picturesque beaches and historical fishing industry, with its lively fish auction and marketplace. The next several days will include up-close cheesemaking and farm tour with Mary Quicke, who tends to her family's five hundred-year-old farm and dairy facilities which produce unique, award-winning cheeses thanks to centuries-old know-how. Artisan raw milk cheese and a selection of England's best wines will be enjoyed at the Sharpham Estate, a thousand-year-old farm with a creamery and vineyards; a visit to historic Plymouth will include a tour and taste at Plymouth Gin Distillery, England's oldest gin producer.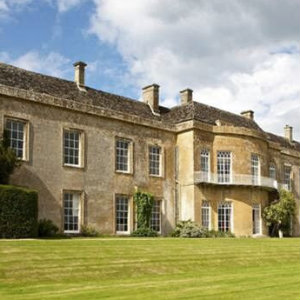 On the fifth day, travelers will head to Somerset, not only the birthplace of cheddar but also the reputed location of King Arthur's Camelot. Guests will reside at the exquisitely restored English manor, North Cadbury Court, the family home of the legendary makers of Montgomery's Cheddar, and, incidentally, the set location for the 2007 Jane Austen film "Persuasion." During their four-day stay, the group will be joined by the famed cheddar maker himself, Jamie Montgomery, who will lead guests into the world of British clothbound cheddar and family lore. A walking tour of the estate includes the dairy, pastures of Jersey cows, and the legendary castle ruins of Camelot; Jamie will "hold court" with several of his cheesemaker friends, uniting Somerset's cheese doyens in true Downton Abbey-style!
More cheddar fodder will be bestowed by Tom Calver, a young and dynamic cheesemaker of multi-award winning Westcombe Cheddar, Duckett's Aged Caerphilly and Somerset Ricotta, who will no doubt delight as his lovely cheeses are paired with craft beers from Wild Beer Company, regarded among the best ales in the United Kingdom.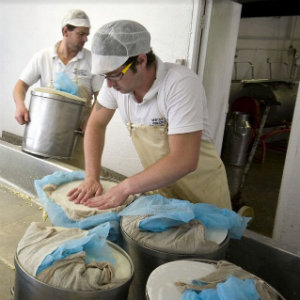 In addition to cheddars, other cheeses such as Stichelton, one of England's classic blues, will be on the tasting menu, as well as Hampshire Cheese's Tunworth, a camembert-style fromage that is "plum delicious," as the Brits like to say: gooey and great to eat with jam; the best hard ciders made in the country will be sipped at The Somerset Cider Brandy Company; the final leg of the trip will include a visit to the historic city of Bath, complete with a Roman spa and a thriving food culture, and home of Jane Austen.
The meticulously planned itinerary, distinctive accommodations, and delicious menus of this English Cheddar Odyssey are all hallmarks of international Cheese Journeys trips to Europe which have been inspiring travelers since 2013. Visit Cheese Journeys for more details on the May 2018 English Cheddar Odyssey and other upcoming cheese travel options.
If you have any questions regarding Cheese Journeys or are interested in making a booking, you can contact Anna Juhl at anna@cheesejourneys.com, or 435.503.2282.
---
More Greer