Greer's Blog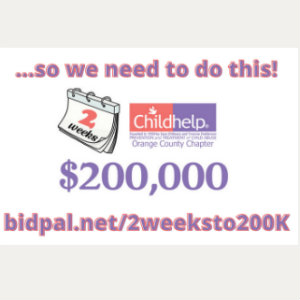 10.08.20
Being unable to host their annual Fall Gala hasn't curtailed Childhelp's goal to raise much-needed funding for the prevention and treatment of child abuse.
This year, they are focusing their efforts on their Two Weeks to $200,000 campaign. Donations received will be used to support national programs, including the residential treatment centers in Costa Mesa and Beaumont as well as the Childhelp National Child Abuse Hotline (1-800-4-A-CHILD).
Fundraising started and lasts until October 19th. Thanks to the generosity of The Jacquie and Michael Casey Foundation, a grant of $50,000 is available to match any donation of $500 or more.
As you may know, five children die every day in the U.S. as a result of abuse and neglect. And, with the changes to daily life caused by the pandemic, children facing abuse are finding it even more difficult to cope with the situation, causing calls and texts to the Child Abuse Hotline to increase more than 35% over the past 6 months. Funding is needed now, more than ever, to help support the children under the care of Childhelp.
To donate to this worthy cause, please visit bidpal.net/2weeksto200k or contact Linda Burns at iburnit@me.com / 949.463.8804.
---
More Greer