Greer's Blog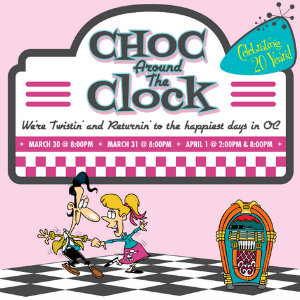 03.20.17
CHOC Follies XX, the original musical comedy production that raises funds for CHOC Children's, will present "CHOC Around the Clock" – We're Twistin' and Returnin' to the happiest days in OC." This year, three evening performances and a Saturday matinee will be held at the Robert B. Moore Theatre in Costa Mesa, March 30 through April 1.
Set in the mythical town of Sublimity City, California, CHOC Around the Clock, is a fun and fast-paced journey to Orange County, circa 1956. Craziness ensues when an overzealous mayor issues a strict curfew that has the town's youth and adults at odds. Mixed up romances, zany characters and classic 50's songs all become a part of this original show.
This year, in addition to celebrating CHOC Follies' 20th anniversary, Gloria Zigner, the founder and executive producer of the philanthropic event, will be honored for her dedication. Without Gloria, there would be no CHOC Follies. Under her direction, more than 1,500 cast members have entertained people in 75 performances, netting over $8 million for the hospital.
This year's Follies will support CHOC's KidsCare Fund, which is vital to the lifesaving work performed at CHOC Children's.
Tickets for all performances are $75 and $50. Additionally, Friday and Saturday night's performances offer a premium-preferred ticket for $125 (includes after-show cast party). All seats are reserved, and group sales tickets are available.
"CHOC Around the Clock" will run at the Robert B. Moore Theatre on the campus of Orange Coast College in Costa Mesa on Thursday, March 30 at 8 p.m., Friday, March 31 at 8 p.m., and on Saturday, April 1, at 2 p.m. and 8 p.m.
To learn more about the CHOC Follies, become a sponsor, make a donation or purchase tickets, please visit chocfollies.org, or contact Lois Augustine at laugustine@choc.org or 714.509.4140.
---
More Greer