Greer's Blog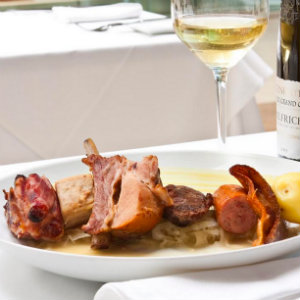 10.17.19
It's that time of year again — Marché Moderne's rendition of the traditional Alsatian fall feast known as Choucroute returns for four evenings, Tues, Oct. 22; Wed. Oct. 23, Thurs. Oct. 24, and Friday, Oct. 25! It's one of Chef Florent's most beloved annual dinner series, with an extra evening of porcine-decadence added this year (they sold out last year so they added an extra evening to cover the bases).
The dinner series will celebrate le porc (from head to toe) in various preparations, from pork belly confit and braised pork cheeks to Saucisse Fume and Crispy Pig's Ears & Feet, along with traditional accompaniments such as Weiser Farms German butterball potatoes, Dijon mustard, and housemade Alsatian sauerkraut. And of course, save room for Chef Amelia's take on the Kugelhopf, a brioche-like cake with Vendange Tardive ice cream and roasted apple mousseline. Select Alsatian wines and beers will be available as well.
*Per person: $45 for Choucroute; $15 for dessert; select wine & beers additional.
Reservations: 714.434.7900.
7862 Pacific Coast Highway in Newport Beach.
---
More Greer