Greer's Blog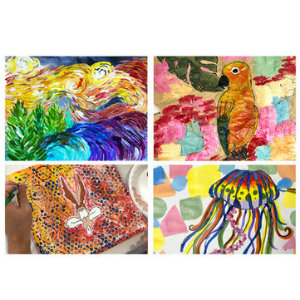 07.07.20
Chuck Jones Center for Creativity is offering an online summer Painting Camp! This summer, join them from July 13 to July 17 for experimentation with color, technique, and medium. Their teaching artists will guide students through the painting process of fun and exciting projects.
Activities include vibrant, Matisse-inspired animals, expressive self-portraits, experimentation with colorful folk art and Van Gogh's Starry Night, pop-art painting with Looney Tunes characters, and so much more! This camp is sure to have something for every young painter!
This week-long camp takes place online via Zoom (link and password to be provided to enrollees), July 13-17, from 10 a.m. to 12 p.m. daily. Camp is $85 a person, for students ages 8 to 15 (or 2 for $150; 3 for $205 and 4 for $250).
"No paint? No problem! They will be offering curbside pick-up at the Chuck Jones Center for those that need paint and paintbrushes on Saturday, July 11 from 12 – 2 p.m.
*There will be a $5 deposit for supplies on pick up day. The deposit will be returned to you once supplies are dropped off at the end of the Painting week on July 18th from 12 – 2 p.m.
Register at chuckjonescenter.org/programs/paintingsummercamp.
*Want to purchase your own supplies? No problem, they've provided 'wish list' links to Amazon or Blick Art Supplies for your easy shopping.
For questions, contact them at Info@ChuckJonesCenter.org.
---
More Greer