Greer's Blog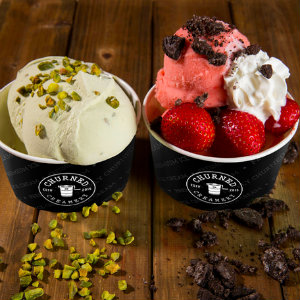 06.13.17
One of our favorite custom ice cream shops, Churned Creamery just opened their newest location in Irvine at the Woodbury Town Center. Irvine is the 5th location of this growing Southern California concept, which recently opened their Cypress location and recently announced plans to unveil stores in Temecula and Yorba Linda.
Churned Creamery freshly prepares handcrafted artisanal ice cream, using traditional churning and freezing methods with breakthrough batch freezing equipment. Created in small batches, Churned only uses fresh milk, cream, fruit and imports the finest ingredients from around the globe. Healthy alternatives and non-dairy options are always available as well, making Churned a concept anyone can enjoy. Popular flavors as of late include Oreo, Salted Caramel, Nutella, Whiskey & Cream and their newest addition the CroCreme™, a buttery glazed croissant stuffed with freshly churned ice cream.
Churned Creamery Irvine is at 6367 Irvine Blvd. in Irvine.
Churned Creamery is also at Union Market at The District, Tustin at 2493 Park Ave. #21
in Tustin.
Churned Creamery Cypress is also at Cypress Village Plaza at 9527 Valley View St.
Cypress.
---
More Greer