Greer's Blog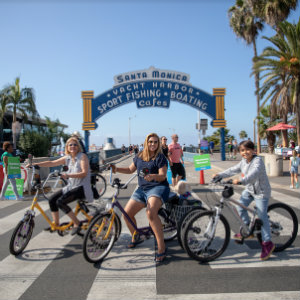 08.30.19
Santa Monica's free open streets celebration, COAST, returns on Sunday, September 15 featuring people-powered transportation, art, and imagination. Two miles of Santa Monica's streets will be closed to cars and filled with a pageant of crowd-sourced creativity in addition to live music, food, art, and hands-on activities. COAST invites people of all ages and abilities to bike, skate, scoot, run, walk and roll along the event route.

Santa Monica's streets, sidewalks, and iconic landmarks will pop with the color and sounds of musicians, dancers, and artists including Sol e Mar, Venice Beats, Mariachi Linda Mexicanas, Cuñao and the California Feet Warmers. Other activities include helmet decorating, a kid's bike skills rodeo, a giant puppet parade, and salad-making at the community garden.
This year, attendees are t invited to create or decorate your favorite (real or imaginary) car-free way to get around and then show it off during this carnival of wheels, rigs, wings, and feet. DIY or join one of over a dozen free artist-led workshops that will be held pre-COAST from August 29 until September 14.
The workshops will provide inspiration and materials to create costumes, walking pieces, or wheeled art to strut on the event day. From family-focused events to happy-hour workshops, resources will be available for all to generate human-powered transportation art. Contemporary visual artist Marianne Sadowski, puppeteer Beth Peterson, and cardboard sculptor Kiel Johnson are a few of the artists that will guide participants in transforming their ideas into a costume, hat or helmet, giant puppet or wheeled conveyance, or anything else they can imagine. There will also be day-of workshops for people to join in the fun and pageantry.
Attendees can enter the COAST contest to win prizes in six entry categories around innovation, creativity, teamwork, and how people-powered it is.

COAST will be held on two miles of city streets closed to car traffic, including Ocean Avenue from Wilshire Boulevard to Colorado, Colorado from 5th Street to Ocean Avenue, as well as Main Street from Colorado to Pier Avenue.
For more information about COAST visit santamonica.gov/coast.
---
More Greer