Greer's Blog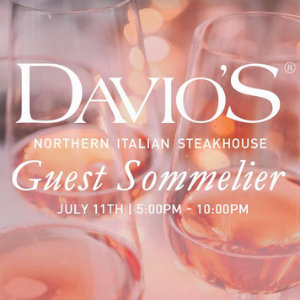 07.08.19
Join Davio's Irvine on Thursday, July 11 from 5 to 10 p.m. for a sommelier event. Special guest Steve Veytia will guide guests through the wines of Coeur Clémentine, the oldest wine making region in France. Featured wines include 2018 Coeur Clementine Still Rosé and Coeur Clementine "La Pétillante" Sparkling Brut Rosé.
Founded in 2005, Coeur Clémentine is the result of the decades-long friendship of its founders, Steve Veytia and Pierre Arosteguy, and their shared passion for the wines of Provence, and in particular, rosé. Steve, a native of St. Helena, California and Pierre, the 5th generation owner of the oldest family run epicerie in France, Maison Arosteguy in Biarritz, launched their first vintage in 2008 and the wine has gone on to win numerous awards.
Simply make dinner reservations in the dining room or dine at the bar. Sommelier Steve Veytia will be visiting tables all night giving recommendations for which wines to pair with your dinner. He will also answer any questions you may have about Coeur Clementine Winery or any of your wine questions.
18420 Von Karman Ave #100, Irvine. 949.477.4810.
---
More Greer