Greer's Blog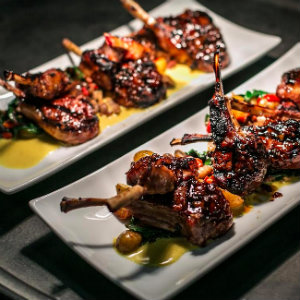 08.04.17
Now that Crustacean in Beverly Hills is undergoing a major five-month redesign this summer, you can be treated to Crustacean's signature dishes prepared by master chef Helene "Mama" An at AnQi, it's sister restaurant at South Coast Plaza.
AnQi will serve a sampling of signature dishes from An's famous Secret Kitchen through September 30.
The pop-up version of Crustacean's highly acclaimed menu will be available at dinner only Monday through Friday in the Q Lounge at AnQi, which like its Beverly Hills counterpart has won acclaim for its signature style of Euro-Vietnamese cuisine and An's creative use of Asian herbs and spices in her cooking.
Reservations are required and are limited to 60 guests a night and should be made by phone: 714.557.5679.
The pop-up Crustacean menu at AnQi will include 10 appetizers, four main courses and two desserts.
The tantalizing appetizer options include Turmeric Grilled Calamari ($15), with saffron, orange zest and peanut mustard sauce; Sweet and Spicy Chicken Meatballs ($15), made with basil, tofu, tempura flakes and Gochujang sauce; and the addictive X0 Noodles ($18) with scallops, shrimp, chicken, bird's eye chili, shallots and Hennessy cognac.
Among the choices for the main courses are Rack of Lamb ($46), made with chardonnay flambé, Steamed Seabass ($49); and An's Famous Roasted Crab ($65), featuring An's garlic sauce and secret spices and available in or out of the shell.
A mouthwatering dessert option is Grandma Diana's Famous Banana Fritters ($12).
AnQi is at South Coast Plaza, 333 Bristol St. Costa Mesa.
Crustacean in Beverly Hills closed in June to transform into two restaurants. The first floor will be the new Crustacean, but will stay true to An's pioneering cuisine, inspired by the An family's Secret Kitchen recipes.
The upstairs restaurant will represent the next generation of Crustacean with new talent. Chef Tony Nguyen, House of AN's executive chef for the last two years, is a graduate of the Culinary Institute of America and a familiar face on TV food reality shows. Nguyen will create unique, multi-course menus and cook at the gourmet second floor restaurant with limited nightly seatings.
---
More Greer