Greer's Blog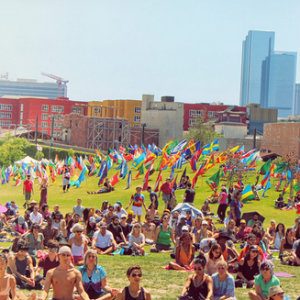 06.19.18
DisclosureFest and California State Parks will host the "The Mass Meditation Initiative" on Saturday, June 23. This free event returns for its second year to the Los Angeles State Historic Park near Chinatown for a full day festival of free yoga classes and workshops, conscious speakers on health, wellness, the environment and humanitarian topics as well as sound baths, art walk featuring world renown visionary artists, live music, vegan plant-based foods, desserts, beverages and a large children's space offering a multitude of activities throughout the day.

The festival will kick off with morning yoga starting at 10 a.m. The Mass Meditation is scheduled for 2 p.m. and will be live streamed at disclosurefest.org/live.
The lineup will feature acclaimed speakers David Wilcock, an author, filmmaker and lecturer; Corey Goode, an interstellar intuitive empath who will introduce the public premiere of Secret Space Program documentary Above Majestic which will be screened on site; Carla Lee, founder and CEO of OneTeam Humanity Foods and Carla Lee's Nutburgers; David Avocado Wolfe, the rock star and Indiana Jones of the superfoods and longevity multiverse; Jimmy Church, radio host of Fade To Black and Coast to Coast AM; and primitive living skills expert Chad Keel plus many more.

Conscious workshops include lessons in plant-based food preparation, ecstatic dance, Ayurveda, essential oils, herbalism, sacred geometry, past life regressions, light alchemy, dancing and singing, meditation and visualization practices, Siddha healing and quantum third eye activations. The complete list of speakers and workshop leaders are listed here.

There will be a selection of 14 yoga classes, offering different modalities such as tantra, acro, kundalini, hatha, naam, for all levels of participation. Discover the list of yoga instructors with further details here.
Get free tickets and register at disclosurefest.org
---
More Greer