Greer's Blog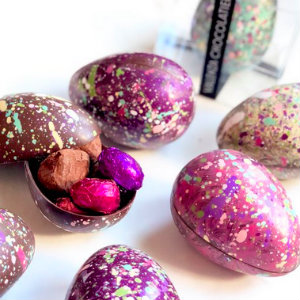 04.18.19
Master Chocolatier Amy Jo Valenza will host an exclusive Easter Pop Up Shop within the Valenza Chocolatier Cioccolato Lab on Friday, April 19 from 11 a.m. – 7 p.m. You can shop from the Easter Collection plus customer favorites , until supplies last. In honor of Amy Jo's Mother-in-Law, 25% of all Easter Collection sales will be donated to the Employee Scholarship Fund of Riderwood Village in Silver Spring, Maryland, where she lived.
Valenza Chocolatier's artisan Easter Collection is all about Easter Eggs of all sizes; solid mini eggs, decorative bonbon eggs, and The Egg. You can add these decadent creations to any Easter basket, bring as a hostess gift, give to that special someone, or plate for dessert on Easter Sunday.
Valenza Chocolatier is at The Hood Kitchen at 350 Clinton Street in Costa Mesa.
---
More Greer