Greer's Blog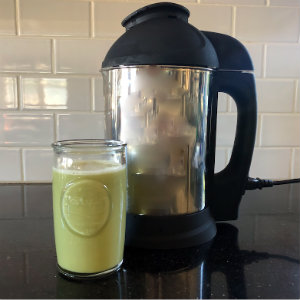 09.11.19
The easiest way to make healthy Matcha Almond Milk? Get an Almond Cow plant-based milk maker at almondcow.co and use code Greer to save $15.
You can make so many delicious nut, seed or grain milk in seconds.
Easy Peasy Matcha Almond Milk.
1 cup almonds, soaked in water for at least 4 hours or overnight
5 Cups of water
1/4 Tsp Salt (optional)
1 Tsp Vanilla (optional)
Maple syrup or 5 pitted dates (optional)
Directions
Soak the almonds. This step is optional but recommended for a smoother almond milk texture. Place the almonds in the designated Almond Cow filter basket. If using dates you would add them to the filter basket now. Attach the container to the blade head and twist to close. Fill the Almond Cow base with water up to the fill line. Add your desired sweetener, salt, and flavorings like vanilla.
Plug in the Almond Cow and press the handy button at the top! Let the machine run 1 cycle, or you can run another cycle if you want a finer grind. Remove the top half of the Almond Cow and set aside. Pour the milk into a container and enjoy!
---
More Greer