Greer's Blog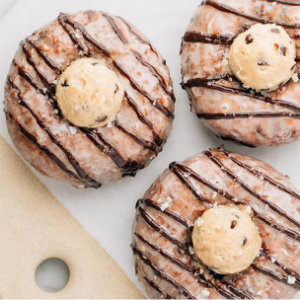 06.03.19
Not only can doughnut enthusiasts look forward to National Doughnut Day on Friday, June 7, if you're one of the first 50 customers at Sidecar Doughnuts you'll receive a limited and special edition Sidecar National Doughnut Day hat and a free doughnut card! You just need to make a purchase and limit is one hat/doughnut card per transaction.
You can also make Monday more memorable today by checking out SideCar Doughnuts first collection of gif stickers for Instagram Stories on Monday, June 3rd; as well as joining the ranks of Snapchat with a customized geofilter available at all Sidecar locations, starting on Tuesday, June 4th.
And for the month of June, Chef Melissa King is the latest celeb chef to join the Sidecar Chef Series! Chef Melissa created a delicious flavor in celebration of Pride Month, Lime Poppyseed Pride. Her flavor is a raised doughnut, topped with a lime & poppyseed glaze, plenty of rainbow sprinkles, and a house made rainbow meringue. A portion of all proceeds will go to Brave Trails, a leadership summer camp for LGBTQ+ youth & allies, with locations in California and Maryland.
And in June, Sidecar is bringing back fan favorites such as Salted Malted Chocolate Chip Cookie Dough (pictured above) and Strawberry Buttermilk, as well as adding the beloved Choc-a-Lot and the new Vegan Chocolate Truffle to their every day menu.
Sidecar Doughnuts & Coffee is located at 270 E. 17th St. in Costa Mesa, and 631 Wilshire Blvd. in Santa Monica.
---
More Greer