Greer's Blog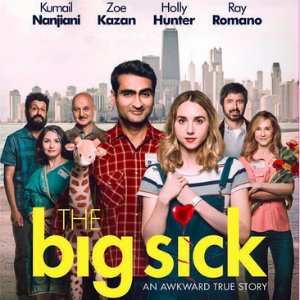 12.05.17
The Orange County Film Society proudly presents the box-office hit "The Big Sick" on Thursday, Dec. 7 at 7:30 p.m. at the Regency Lido Theater with the honor of Best Original Screenplay. Screenwriters and real-life couple Emily V. Gordon and Kumail Nanjiani will be in attendance to accept the award and partake in a Q&A at this invite-only screening, moderated by Variety editor, Jenelle Riley.
We are also giving away pairs of tickets to this exclusive screening. Simply leave a comment on Greer's OC Facebook or Instagram @dailydoseoc, and we will contact the winners tomorrow at noon.
Based on his own experiences with his wife Emily (played by Zoe Kazan), stand-up comedian Kumail (as himself) explores how the couple fell in love despite clashing cultures and constant adversity. Kumail must navigate his comedy career, deal with a tragic illness, and figure out who he is and what he truly believes. Directed by Michael Showalter, this film also features Holly Hunter, Ray Romano, and comedian Bo Burnham.
The Orange County Film Society presents advance screenings of the studio and independent films followed by discussions with filmmakers, critics, curators, and scholars. To become a member, visit orangecountyfilmsociety.com.
Regency Lido Theater is at 3459 Via Lido, Newport Beach.
---
More Greer