Greer's Blog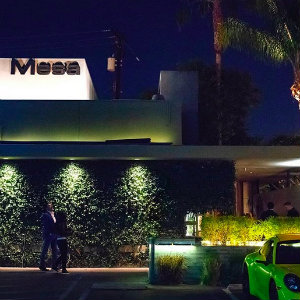 02.13.19
Considering where to dine out on Valentine's Day? Two of my fave restaurants in Orange County, Mesa and Restaurant Habana in Costa Mesa and Irvine, are planning special offerings for couples and singles.
Mesa
The chic cocktail-haven and eatery will be offering a prix fixe menu for couples this Valentine's Day, as well as an In Love With Myself mixer at the bar top and lounge area.
For those interested in the prix fixe menu, Chef Abad will be offering an amuse bouche, followed by a three-course menu featuring Tuna 'Nicoise' as the first course (haricot verts, blistered tomato, confit egg yolk, pee wee potato, citrus vinaigrette), and entreé choices such as Charred Filet with potato au gratin, roasted trumpet mushrooms, green onion pistou, onion demi and Mushroom Tortelloni with goat cheese, mushroom, corn, and huitlacoche. Seatings are available through OpenTable or directly through the venue at mesacostamesa.com. This luxurious meal is $70 per person, add custom drink-pairings for an additional $30 per person.
The In Love With Myself 'mixer' for singles includes two specialty cocktails and light appetizers. This unique Valentine's Day event encourages guests to get social, celebrate with friends, and treat themselves. This is available only at the bar and within the lounge area; $30 per person. Buy tickets and learn more here: In Love With Myself Mixer
725 Baker St, Costa Mesa. 714.557.6700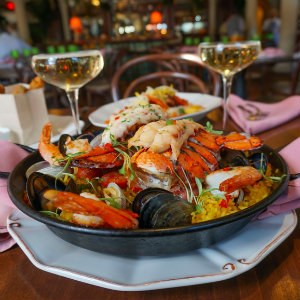 Habana Irvine
Habana, the Cuban-inspired eatery at The Irvine Spectrum Center continues to wow its visitors with its inviting, romantic atmosphere as well as its varietal cuisine.
On February 14, Habana Irvine will host a live singer, Adelaide, and will be serving a very special dinner menu. Start with oysters on the half shell with a tropical fruit mignonette or perhaps the Pan-Roasted Bacon Wrapped Scallops with coconut polenta, crispy ginger, and passion fruit beurre blanc. There are a wide selection of entrees to select from as well, including the Paella a la Habana with Lobster for Two, bursting with fresh lobster, shrimp, clams, mussels, Spanish chorizo, chicken, salmon, and calamari. Be sure to save room for dessert though, as their Valentine's Delight for Two is the perfect sweet finish to an outstanding meal; chocolate covered strawberries come with an almond sponge cake and a tropical mousse cake, topped with fresh raspberries.
708 Spectrum Center Drive in Irvine. 949.419.0100
Photos by Marlin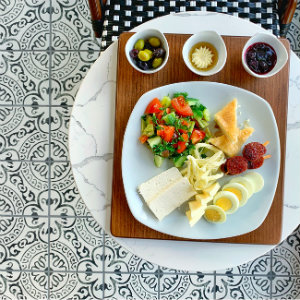 Habana Costa Mesa
Habana in Costa Mesa will host the Cuban band, Son Havana, providing the warm sounds of Cuban, and serving a very special menu as well. Indulge in the Filet Mignon delicately wrapped in fire-grilled vegetables, or the Chilean Seabass with a pomegranate champagne butter sauce, and finish things off with their guiltless Coconut Tres Leches cake, topped with a vanilla bean ice cream heart, raspberry sauce, and light passion fruit mousse. Come celebrate solo, with a special someone, or even the whole family. It's the perfect romantic yet lively environment to spend Valentine's Day. After dinner, sip on fresh mojitos, sangria, and more until 2 a.m.
2930 Bristol St. in Costa Mesa 714.556.0176.
Photos by Bobby
---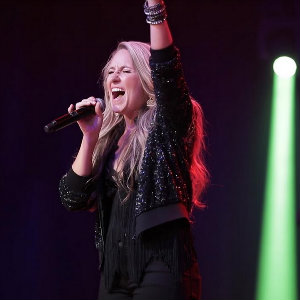 02.12.19
The Ranch Saloon, known as one of Orange County's best venues for live country music and line dancing, will be welcoming Blown Away: a tribute to Carrie Underwood and Honey County to the Saloon this February.
Blown Away, scheduled to play on Wednesday, February 13, will feature the talents of Amanda Ferris and Arnie Newman's Country Club Band in its tribute night to Carrie Underwood. They are prepared to showcase some of the top hits from the #1 Female Country Pop Singer of the decade!
Honey County, performing on Wednesday, February 27, is a popular, female trio country music band that has appeared at Stagecoach Festival, on the HBO series True Blood and appearing as semi-finalists on VH1's Make a Band Famous competition. They have several songs that have gained much attention from Apple Music, Spotify and on country radio stations across the country.
Doors will open at 5:30 p.m. on both evenings, with the bands scheduled to go on at 8 p.m. Cover charge will be $5 for ages 21 & up and $15 for ages 18-20 and Round Up Hour specials will be available from 5:30 p.m.-7 p.m. Line dancing lessons will also be available both nights at 6:30 p.m. and 7:15 p.m.
The Ranch Saloon features the best in live country music on a 40' concert stage with a state-of-the-art Meyer sound system and a custom made 47' x 26' dance floor in a small club venue with an intimate atmosphere. THE RANCH Saloon serves up the best selection of whiskeys and local craft brews at its 47-foot Long Horn Bar, and an award-winning chef-crafted menu that features the best seasonal ingredients and the famous 58oz. Cowboy Ribeye.
For more information, visit theranch.com.
1025 E. Ball Road in Anaheim. 714.817.4200.
---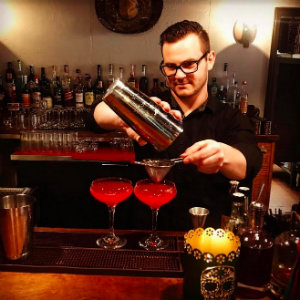 02.12.19
Hidalgo Cocina & Cocteles in Fullerton is celebrating Valentine's Day by offering a 3-course prix fixe menu for $45 per person and includes a complimentary glass of sparkling wine. The restaurant will still offer its traditional menu on that day.
Located at the Villa del Sol in Fullerton's Historic Downtown, Hidaldo was recently purchased by husband/wife duo Ryan and Brianne Dudley, owners of The Cellar Restaurant, also situated at the Villa del Sol.
Its vast menu consists of Mexican and other Latin dishes served in a hacienda-like setting or al fresco in its garden-like patio. The Valentine's Day menu is available both lunch and dinner and the menu is as follows:

First course choices include:
Chicken Tinga Tostada Chipotle-Tomato & Onion Sauce, Shredded Lettuce, Queso Fresco, Crema.
Ceviche Shrimp and White Fish, Citrus Juices, Pico de Gallo, Fresh Tortilla Chips.
Albondigas Soup From Scratch Lamb & Beef Meatballs, Hearty Vegetable Broth.
Spinach Salad Spinach Leaves, Dried Cranberries, Candied Walnuts, Red Onion, Blue Cheese, Raspberry Vinaigrette.

Second-course choices include:
Steak Chimichurri Marinated Steak, Argentinian Pesto, Roasted Potatoes, Sautéed Vegetables.
Pecan Salmon Chopped Pecans, Honey Dijon, Roasted Potatoes, Sautéed Vegetables.
Pibil Taco Achiote Marinated Pork, Red Onion, Escabeche, Queso Fresco, Cilantro.
Enchiladas Corn Tortillas, Jack Cheese, Red or Green Sauce, Choice of
Grilled Chicken or Steak. ~Vegetarian Option Available.
Third: Chocolate Layer Cake and New York Cheesecake.
Hidalgo is at 305 North Harbor Blvd, Fullerton. 714.447.3202 HildalgoFullerton.com
---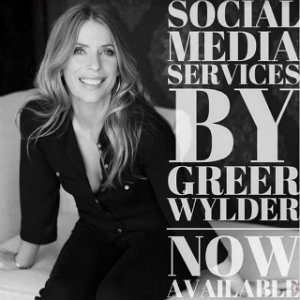 02.11.19
Let's face it, you're a business owner or nonprofit, and you need a great Social Media voice, but you have only so many hours in the day.
I love Social Media and have been doing it for years for my company and brand. I'm now offering Social Media services outside of my own company and would love to help your business with content, social media presence, and a strategy. If you're interested, send me an email at info@greersoc.com.
---
More Greer