Greer's Blog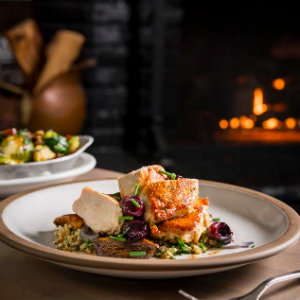 10.16.18
Just in time for fall, Five Crowns just debuted a new autumn menu created by Executive Chef Alejandra Padilla. The menu features the season's most anticipated flavors to compliment the restaurant's classic dishes. Highlights include several new small plates such as Foie Gras Donuts with pomegranate jelly and sea salt, main dishes like Rainbow Trout with brown hazelnut butter, brussels sprouts and pomme puree and desserts such as Apple Sticky Toffee Pudding with walnut crumble, roasted apples and whipped mascarpone.
Other dishes include Potato Croquettes with horseradish crème fraîche, trout roe, caviar; Farmers Market Fall Burrata with white radicchio, persimmon, beets, caraway seed crisp, and hazelnut vinaigrette. Fruits del Mar is a Scallop Carpaccio with yuzu lime, serrano, and Japanese basil.
From the Soups and Greens, there's a Fall Mushroom Soup with charred scallion oil.
The Mains include Duck Breast with citrus braised carrots, turnips, black lentils, and passion fruit vinaigrette; or a Rainbow Trout with hazelnut brown butter, brussels sprouts, and pomme puree. There's also a Braised Pork Shank with fingerling potato, sweet and sour red cabbage, pickled mustard seed and pear.
Taste the fall flavors of Squash & Farro with risotto-style farro, butternut squash, parmesan, sage, and walnut pesto, and pomegranate. There's also Roasted Scallops with cauliflower puree, prosciutto chip, olives, and tomato petal. Jidori Chicken with
toasted bulgur wheat, glazed pearl onions, chestnuts, roasted grapes, and chicken jus. And lastly, the house Pappardelle with pork ragu, Tuscan kale, tomato, and lobster.
For sides, there are Wild Mushrooms and Hazelnut Honeynut Squash.
For Desserts, choose from Espresso Crème Caramel with hazelnut cookies, dulce de leche, and chocolate sauce; or Apple Sticky Toffee Pudding with walnut crumble, roasted apples, and whipped mascarpone. And, Pistachio Cheesecake with chocolate wafer crust, raspberries, and toasted meringue.
Open 5-9 p.m. Sun.-Thurs.; and 5-11 p.m. Fri. and Sat.
Five Crowns is at 3801 East Coast Highway in Corona Del Mar.
---
More Greer