Greer's Blog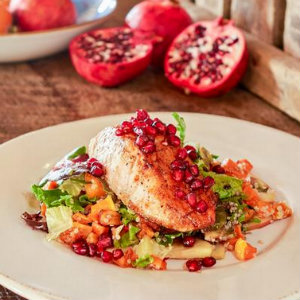 03.14.18
Farmhouse owner and executive Chef Rich Mead will host an evening of unforgettable food and great company on Monday, March 19 from 6-9 p.m. Taking place during Roger's Gardens' annual Spring Celebration and benefitting The Ecology Center, the Local Artisan Dinner will feature an exclusive, multicourse menu and beverage pairing highlighting the season's freshest flavors.
Meet the real stars of the evening, the local food and drink artisans who made the special dinner possible. In attendance will be Evan Marks of The Ecology Center, Alex Weiser of Weiser Family Farms, Sherry Mandrell of the Tehachapi Grain Project, Peter Schaner of Schaner Family Farms, Meredith Bell of Autonomy Farms, Brian and Robin Christenson of Blinking Owl Distillery, Sara Lezama and Kyle Titterud of Rye Goods Co., Meredith Bell of Autonomy Farms, Paddie Glennon of Superior Seafood, local fisherman, Scott Brenneman and many other notables in the SoCal culinary circle.
The evening will begin with signature cocktails, beer by Docent Brewing, wine and hors-d'oeuvres. A coursed dinner will highlight the freshest local fruits and vegetables from Weiser Family Farms and Schaner Family Farms, fresh cod from Superior Seafood, pastured chicken from Autonomy Farms as well as grains from the Tehachapi Heritage Grain Project. Farmhouse's pastry chef will prepare a seasonal dessert; cocktails, beers, and wines will be served.
Cost is $150 per person, tax and gratuity included.
Space is limited. To purchase tickets, please visit farmhouserg.com/spring-celebration-farmhouse-local-artisan-dinner/
For more information, call 949.640.1415.
Farmhouse at Roger's Gardens at 2301 San Joaquin Hills Road in Corona del Mar.
---
More Greer