Greer's Blog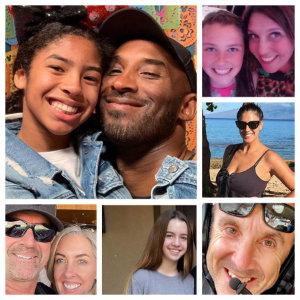 01.29.20
We are all in shock from Sundays' tragic accident and the loss of friends, heroes, sisters, brothers, mothers, fathers, daughters, sons, husbands, wives and children. Namely: Kobe and Gianna Bryant; Sarah and Payton Chester; John, Keri and Alyssa Altobelli; Ara Zobayan; and Christina Mauser. It's a great loss for the Orange County community and beyond.
We've compiled a list of fundraisers for families who have lost loved ones including Vanessa Bryant's latest announcement on Instagram: "To honor our Team Mamba Family, the Mamba Sports Foundation has set up the MambaOnThree Fund to help support the other families affected by this tragedy. To donate. please go to MambaOnThree.org."
Fundraiser by Jose De La Jara : Christina Mauser Family Support Fund Jose De La Jara Christina Mauser Family Support Fund Approved by Matt Mauser Family. gofundme.com
Fundraiser by Jeff Piaskowski : #FOREVERAPIRATE. "There was another GOAT and his family in that helicopter on 1/26/2020 in Calabasas. Alto, Keri and their youngest daughter. Alto was a man that helped to shape my future." gofundme.com The Altobellis and gofundme.com/f/foreverapirate.
Fundraiser by Paul Toboni : Support for the Altobelli Family. Paul Toboni Support for the Altobelli Family. gofundme.com
And, Toast, Costa Mesa's favorite place to brunch + dine donates 10% of all proceeds to various nonprofits throughout the year and in the midst of this tragedy, Chef John Park at Toast has decided to donate 10% of sales now through March to Lexi and JJ Altobelli who lost their parents and sister in Sunday's horrific accident.
We're happy to include any other fundraisers if you send an email at info@greersoc.com.

---
More Greer