Greer's Blog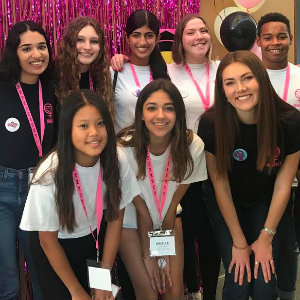 02.20.19
GEMfest is a one-of-a-kind celebration (like a conference, but "more!") that aims to educate girls in grades 6-8 about empowerment, self-esteem, and independence, and inspire them to take on middle school, high school, and the world! On Saturday, March 2 from 9 a.m. - 2 p.m. the 2nd annual GEMfest will showcase several guest speakers, panels, hands-on workshops, delicious food & fun that will leave young girls – and their parents – feeling fearless.
If you're a parent of a middle school girl (grades 6-8) and would like your daughter to attend GEMfest for free - the first four readers to respond will each receive a free ticket to GEMfest for their student. Just send an email to info@greersoc.com.
Organized by students for students, GEMfest 2019 will open with keynote speaker Kamie Crawford – Miss Teen USA 2010, MTV co-host & advocate for diversity and body positivity. Attendees will have the opportunity to meet like-minded peers, connect with older, high school-age students and learn from inspiring and approachable female mentors to develop healthy habits for life.

Additional guest speakers include:
Taylor Hiskey (Social Media Director for Urban Decay Cosmetics).
Alexa Losey (YouTube influencer).
Kemiyondo Coutinho (a Ugandan playwright, actress, and filmmaker, featured in Forbes Africa's "30 under 30").
Daisy Renteria (American Ninja Warrior season 9 competitor and Orange Theory Fitness Head Coach).
Sadie Radinsky (16-year-old chef and healthy food blogger.
Dr. Kelsey Rose (UCLA resident in women's medicine).

Topics will range from nutrition, wellness, and following your dreams to public speaking, social media, and habits for a healthy life. Various workshops offered to focus on Coding, Creativity for Self-Care, Find Your Drive, Hula Hooping for Fun and Exercise, Telling Your Story, The Confetti Project, and Yoga for Students.
For anyone who would like additional info or to purchase tickets, visits gemfestoc.com. Tickets are now on sale for $15 (for students) or $25 (for parents).
On sale at eventbrite.com.
GEMfest 2019 is at Sage Hill School at 20402 Newport Coast Drive in Newport Coast.



---
More Greer