Greer's Blog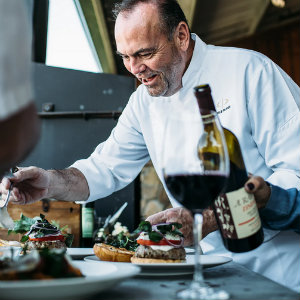 01.11.21
Join Chef Charlie Palmer and radio & TV personality Liam Mayclem for a not-to-be-missed virtual Cooking Class series.
They have two more classes available in January!

Learn valuable cooking techniques, wine pairing tips, and a recipe from Charlie Palmer's Remington Camp Cooking cookbook.
To purchase your holiday cooking session, visit HERE.
Class Details
$75 per person
45-60 minute live Zoom demonstration and Q&A
A copy of Charlie Palmer's Remington Camp Cooking Cookbook
Suggested Wine Pairing + Exclusive Wine Offer
January 15 from 5 p.m. PT | 8 p.m. ET
Herb Roasted King Salmon Over Cabbage
$75 per person
Featured Wine Pairing:
2018 Bloodroot Sonoma County Pinot Noir | $25
Wine promo available
January 20 from 4 p.m. PT | 7 p.m. ET
Braised Chicken Thighs with Green Olive Couscous
$75 per person
Featured Wine Pairing:
2019 Dry Creek Vineyard Fumé Blanc | $16
Wine promo available

For more info, email info@charliepalmer.com
---
More Greer