Greer's Blog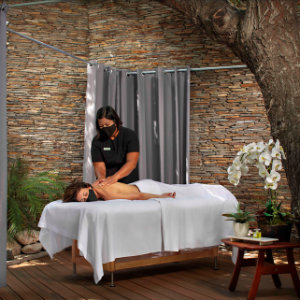 08.10.20
Glen Ivy Hot Springs just reopened with one ultimate spa package, Passport to Wellness, a new outdoor spa experience following physical distance and safety guidelines. Guests are invited to enjoy a curated day of profound relaxation including open-air massage treatments, fitness classes, swimming, and fresh dining while exploring the lush and peaceful grounds.
Passport to Wellness offers visitors a personalized Glen Ivy Hot Springs experience like never before. All spa-goers will enjoy private lounges with pool chaises, a dining area, umbrellas, a private changing cabana, and a dedicated host. A personal concierge, Glen Ivy spa hosts will create the ultimate day of poolside relaxation for guests. Hosts educate visitors about Glen Ivy Hot Springs, remind guests about their massage appointments, provide food and beverage service, and more.
For lunch, guests will indulge in a chef-driven three-course meal with a premium wine pairing. The new lunch menu features wholesome California cuisine with a focus on healthy salads and fresh seafood. The Cravings menu also offers breakfast, gourmet snacks and beverages available for an additional purchase.
The Secret Garden has been transformed into an oasis for open-air massages set to the calming sounds of chirping birds, rustling leaves and waterfalls in the distance. Guests will decompress with a 50-minute full-body Swedish-style massage. Visitors looking to reconnect with their body and mind through fitness can participate in complimentary yoga, meditation, Aqua Fit and Aqua Yoga classes.
Package pricing varies based on private lounge location. Standard pricing is $295 per person. Deluxe pricing is $325 per person. Premium pricing is $395 per person. Reservations are required.
For current information on Glen Ivy Hot Springs' policies, please visit glenivy.com/covid-19/.
Glen Ivy Hot Springs will be open daily from 9 a.m. – 5 p.m. To book, please call 1-888-GLEN-IVY. For more information, visit glenivy.com.
---
More Greer