Greer's Blog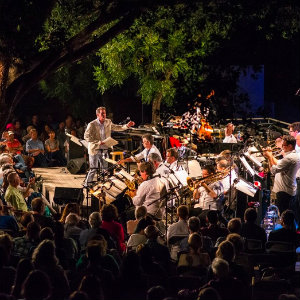 03.04.19
Combining the big band swing of the 1930s and '40s with contemporary music, Gordon Goodwin's Big Phat Band has become an international phenomenon, considered one of the most innovative and versatile big band collectives in the last thirty years. On Sunday, March 10 at 4 p.m., Gordon Goodwin will bring his exciting Big Phat Band to Chapman University for a very special afternoon opened with a short set by the Chapman University Student Big Band.
With 21 Grammy nominations, four Grammy Awards and three Emmy Awards, Gordon Goodwin is the most decorated big band leader of the 21st century. Goodwin formed the ensemble in 2000, comprised of an 18-piece jazz orchestra populated by Southern California's finest musicians. Featuring Goodwin's witty, intricate and hard-swinging compositions, the Big Phat Band is known for taking the big band tradition into the new millennium with a contemporary, highly original sound.
In addition to opening for Gordon Goodwin's Big Phat Band, The Chapman University Big Band, led by Albert Alva, will join the ensemble for a rousing side-by-side finale. This unique opportunity for students to rehearse and perform alongside the seasoned musicians is made possible by the Musco Master Class Program. Earlier this season, the Chapman Big Band opened for the Stan Kenton Legacy Orchestra and performed with vocalist Barbara Morrison.
Tickets for March 10 are on sale now for $25-45 and may be purchased through the Musco Center online at muscocenter.org or by calling the box office at 844-OC-MUSCO (844-626-8726).
All print-at-home tickets include a no-cost parking pass.
Musco Center for the Arts is on the campus of Chapman University at 415 North Glassell, Orange.
---
More Greer