Greer's Blog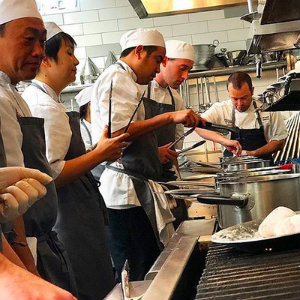 03.01.18
A new cutting-edge cooking academy launched at OC Fair & Event Center to empower underserved youth through free culinary education and mentorship. A commercial kitchen on the fairgrounds is being transformed into Hatch Culinary Lab.
The new education program is a partnership between OC Fair & Event Center (OCFEC), CulinaryLab Cooking School, Anaheim's Innovative Mentorship Experience program (AIME) and Spectra, the Fair's master concessionaire.
OCFEC is investing an initial $54,000 in equivalent value in this community program that this year will provide up to 50 students with training in everything from knife skills, cookery basics and making healthy meals to safety and sanitation. The spring session started Feb. 28 with the first 20 students from Kennedy, Savanna and Western high schools working for eight weeks. A summer internship program and fall certification series will follow, culminating in an event to feed the local homeless community.
The team from CulinaryLab in Tustin is donating staff and time to the program and has created a new curriculum tailored to provide students with the basics on how food works, healthy cooking skills and simple recipes they can practice at home with minimal cost and prep time. The goal is to excite students about cooking and food service and empower them to be confident individuals ready to secure employment.
"At CulinaryLab, we do everything we can to immerse students in the world of cooking with experimentation, tons of repetitive hands-on practice, and by involving local chef partners in the teaching process," said Chef Ryan Wagner. "The goal of the Hatch program is to bring that same high-level culinary education to high school students who might otherwise not have access to it."
The OCFEC commercial kitchen has been revamped from a solely commercial facility to a fully-equipped teaching kitchen with additional cooking stations, appliances, storage, tables, and cookware. The approx. 6,500 sq. ft. facility is operated by Spectra and manager Juan Quintero says the company will also donate kitchen labor, such as dishwashers, to support the program.
"The Spectra team is excited to be part of this community education program. This is really a win-win situation for us," said Quintero. "Not only do we get to work with the student chefs and see their transformation, but we want to hire program graduates to work at the OC Fair doing kitchen prep and cooking for special events."
Students from Anaheim Unified School District's AIME program have been selected to participate in the first Hatch Culinary Lab sessions. More than 70 percent of AIME students come from economically challenged backgrounds and spend their time outside of school assisting their families, either at home or by working. The program will provide transportation and additional supervision for Hatch students.
There are plans for the program to expand through partnerships with Costa Mesa and Santa Ana school districts to serve up to 80 students annually. Wagner estimated that students would gain up to $20,000 worth of culinary education through the Hatch program and he is seeking to secure restaurant partners to help further students' training.
More at https://www.culinarylabschool.com/
---
More Greer