Greer's Blog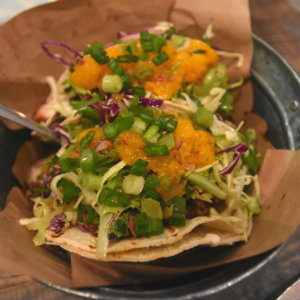 02.28.18
If you love healthy, affordable and delicious seafood in a casual environment, you will love the original Pier 76 Fish Grill in Downtown Long Beach. The popular eatery also has locations in Cerritos, Riverside, Tustin and opening next month, El Segundo. And now is the perfect time to plan on discovering Pier76 Fish Grill.
It's participating in Dine Out Long Beach, Restaurant Week 2.0, the city's premier dining event from February 25 to March 3. Ask about their specially priced three-course menu featuring a choice of one appetizer: Albacore Poke, Broccoli Brussels, or Ceviche; and choice of one entrée: a Mojo Bowl with choice of fish, glazed with Mojo sauce, served with black beans, steamed rice, roasted corn and red onion; or Langostino & Lobster Roll with toasted split top bun, crisp bacon, chipotle aioli. And, dessert is a delicious Ma's Cookie. Price is $17.95.
Favorites from the menu include the citrus cured Shrimp Ceviche with avocado on a crisp tostada; the simple but perfect, Broccoli and Brussels Sprouts with lemon and Parmesan cheese; the Langostino & Lobster Roll with crisp bacon and chipotle sauce; and the Smoked Fish Tacos with hickory smoked fish, roasted tomato cream, shredded cabbage, and tangerine-jalapeno salsa.
They also have great selection of appetizers or "pier bites," salads, specialties and grilled fish served with rice and your choice of Kale Salad, Broccoli Coleslaw, Green Salad, Skin on Fries, Grilled Zucchini and Sweet Potato Fries.
Beverage selections include handcrafted lemonade, Pier 76 wines, and a rotation of craft beers.
Open 10:30 a.m. to 9 p.m. Sunday through Thursday; 10:30 a.m. to 10 p.m. Friday and Saturday.
95 Pine Avenue in Long Beach 562.983.1776.
---
More Greer