Greer's Blog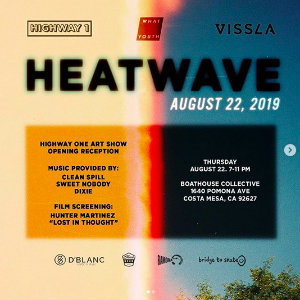 08.22.19
Join Highway 1 Art Show's "Heatwave" on Thursday, Aug. 22 from 7-11 p.m. at Boathouse Collective in Costa Mesa. It's an all-NEW showcase of art, music, and the premier of Hunter Martinez new film "Lost In Thought." Music provided by Clean Spill, Sweet Nobody, Dixie. Don't miss out on this End of Summer Banger!
Participating artists include Alex Varasteh, Andrew Doheny, Cody Parole, Drftwd, Erik Mufon, Ethan Clayton, Grant Noble, Jamie Mckernan, Jess Malane, Joe Suzuki, Joey Duffy, Johnny Klobe, Josh Harmony, Josie Mireless, Joey Bookout, Keith Carmichael, Ken Suzuki, Kiyana Tehrani, Matt Mccoy, Manny Sayes, Mollie Moore, Nick Vold, Nico Sauceda, Ross Schwartz, Sew Aloha, Sticky Shaw, Tbird, Yvonne Logan, and more.
Boathouse Collective is at 1640 Pomona Ave. in Costa Mesa.
---
More Greer