Greer's Blog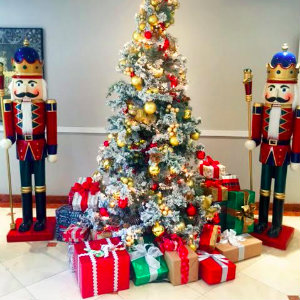 12.13.17
Hollywood Hotel, the centrally-located hotel where all the action begins in Hollywood, is celebrating the joyous season by offering guests insider access to the city's best holiday attractions through an exclusive holiday package.
Hollywood Hotel's holiday package includes the following for guests who book overnight stays during December directly via the Hollywood Hotel website:
---Weekly dramatic readings of classic holiday stories, including The Night Before Christmas and Polar Express, in the hotel's recently remodeled courtyard on Thursdays at 5:30 – 6:30 p.m.
---Special holiday cocktail The Poinsettia will be available in the Ballroom.
---Universal Studios Day Passes to experience the renowned theme park in true Hollywood holiday style, including the annual Grinchmas celebration.
---Insider tips to enjoy Hollywood's best holiday celebrations and activities for the whole family to enjoy available at the front desk.
In addition to being able to book the package via the Hollywood Hotel website, fans are also invited to enter to win the package via a contest hosted on Hollywood Hotel's Facebook page. Additional entries can be gained through engagement with the hotel's Instagram and Twitter pages.
The Hollywood Hotel Holiday Package is available for booking on all nights throughout December. Booking for at least a one-night stay is required, and there are no maximum stay parameters.
Rates for the Hollywood Hotel Holiday Package starts at $325 per night for two guests and can be booked at the following link: hollywoodhotel.net.
Hollywood Hotel is at 1160 N Vermont Ave. in Los Angeles. 323.315.1800.
---
More Greer