Greer's Blog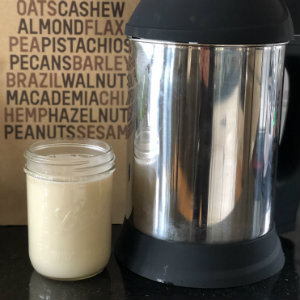 06.25.19
Love coconut milk? Make your own in seconds with the Almond Cow.
You can use fresh coconut meat, shreds, flakes, or even toasted coconut in the Almond Cow to make homemade coconut milk. Coconut milk is a great source of healthy fats and is a great vegan alternative to traditional dairy.
And, if you're lactose intolerant or allergic to milk proteins, coconut milk offers a clear advantage.
Ingredients
1 cup chopped coconut meat, shreds (rinsed), or flakes (rinsed)
1/4 teaspoon sea salt (optional)
1 teaspoon vanilla extract (optional)
3 pitted dates (optional)
Directions
Rinse the coconut shreds or flakes in water briefly. Place the coconut in the filter basket with the dates, if using. Attach the top to the filter basket and twist to secure in place. Fill the base with warm water* up to the min line, add the optional vanilla extract, and/ or sea salt and attach the top.
Plug in the machine, press the cow start button on the top of the machine.
Order one at almondcow.co and use code Greer and save $15 off.
---
More Greer