Greer's Blog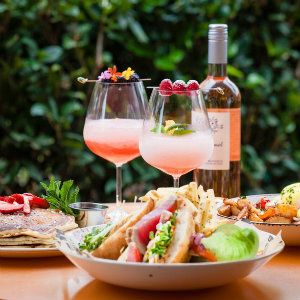 08.02.18
Looking for some new refreshing cocktails, boozy popsicles, tasty brunches and creative specialty burgers to enjoy this summer? Look no further than the culinary events at Hotel Irvine's Eats Kitchen & Bar and Red Bar and Lounge.
Here's what's in store for you:
Summer Frosé Brunch at EATS Kitchen & Bar
Saturdays and Sundays from 10 a.m. to 2 p.m., through September
It's all cool and breezy at EATS Kitchen & Bar this summer. They're mixing up the slushy, pink beverage everyone is going ga-ga for this summer – frosés – in flavors like Frosé Y'all with raspberries and orange liqueur, Strawberry Frosé with rhubarb and Bittersweet Frosé with crème de Pamplemousse – at a reasonable $8 per glass or $30 a pitcher. And while sipping Frosés, Sparkling Sangria, a Build Your Own Bloody Mary or a Flight of Fruit Mimosas, more fun on the patio includes games such as Giant Jenga and Connect 4. When it's time to eat, who doesn't crave Orange Blossom French Toast made with challah bread soaked in orange blossom water laced batter, fried in butter and finished in the oven for a moist, custard-like center and topped with mascarpone, poached rhubarb and a sprinkling of pistachios. And wait, there are Chicken and Waffle decadently and deliciously served with rosemary maple syrup and bacon butter.
New Shake, Burger & Roll Menu at EATS Kitchen & Bar
Thursdays during lunch and dinner, starting at 12 p.m.
Guests can shake it up every Thursday at EATS Kitchen & Bar with the new Shake, Burger & Roll menu featuring creative specialty burgers and summery decadent boozy milkshakes. There's a Kimchi Burger with umami sauce and sriracha aioli, one that's Fig and Goat, My Boy Blue with double smoked bacon and Pt. Reyes blue, and the Anti-Burger is a veggie patty with Swiss cheese, braised mushrooms and red peppers. A choice of EATS fries, tater tots or sweet potato fries comes with. And for those boozy milkshake options, there are Strawberry Pie with whipped cream vodka, Peanut Butter Bourbon composed of High West Silver Whiskey; Malted Chocolate made with Fernet Branca and Bananas Foster with Silver Rum.
$12 for specialty burger and fries, $10 for a boozy milkshake, $18 for burger, fries and boozy milkshake combo.
Summer Game Nights at Red Bar and Lounge
Saturdays during the summer, starting at 3 p.m.
To cool down on Saturdays, Red Bar and Lounge is offering Boozy Summer Popsicles at the cool price of $8 per pop. Three delicious flavors: Blackberry Prosecco, Prickly Pear Mule with vodka and Bourbon and White Peach with lemon, maple and smoke. And, there's a healthy competition going on. Games like Giant Jenga, Connect 4 and more are played on the Patio along with raffles with prizes. Happy Hour runs until 7 p.m., and wines are 50% off.
Hotel Irvine is at 17900 Jamboree Rd. in Irvine. For hotel: 888.230.4452. EATS Kitchen & Bar: 949.225.6780. Red Bar and Lounge: 949.225.6757
---
More Greer