Greer's Blog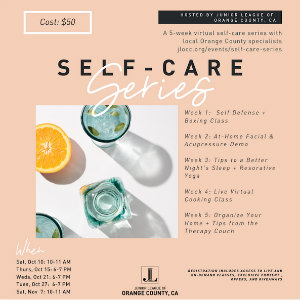 10.06.20
Join JLOCC as they present their inaugural Self Care Series! October 10 – November 7. This will be a virtual five-part series of self-care including meditation, cooking demonstrations, self-defense lessons, and more... it's women empowering women. Every individual who purchases 3 tickets earns a free ticket for an essential worker.
Saturday, October 10: 10 a.m. – 11 a.m.
Take a 20-minute boxing class with Boxhaus, followed by a self-defense demo from Krav Maga OC.
Thursday, October 15: 5 p.m. – 7 p.m.
Learn about the benefits of cupping and acupuncture from Kacie Hill and then take part in an at-home facial with the founder of Facial Works.
Wednesday, October 21: 6 p.m. – 7 p.m.
First you'll learn about the importance of sleep from Dr. Mitra Hashmood and then take a restorative yoga class with Vas Kypreos, owner of ESO Live Well.
Tuesday, October 27: 6 p.m. – 7 p.m.
Caroline Chambers, recipe developer and chef, will lead a 1-hour meal prep class where you'll create meals together for the entire week!
Saturday, November 7: 10 a.m. – 11 a.m.
Declutter your mind and home! Hear top tips from the therapy couch from Emily Sanders, MS/LMFT. Next up, home organizer, Amanda Clark will help let go of clutter and find where to donate it.
Click here to register: Self Care Series
---
More Greer