Greer's Blog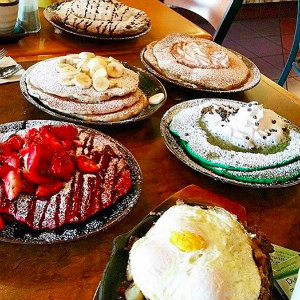 07.26.18
Laguna Heights Marketplace, the center serving South Orange County neighborhoods of Laguna Niguel and Dana Point just added four new merchants: Stacks & Yolks, StretchLab, F45 and Berkshire Hathaway HomeServices.
Stacks & Yolks is an American eatery serving traditional breakfast and lunch options, along with unique signature menu items. Known for its customizable pancakes and sizzling breakfast skillets, for diners who can indulge in options like "The Elvis," peanut butter pancakes stuffed with bacon and topped with bananas or "The Great Gobbler" skillet with turkey sausage, spinach, roasted red pepper over home fries with cheese. Voted Best Breakfast in Las Vegas by the Las Vegas Review-Journal, this is Stacks & Yolks' first Orange County location.
StretchLab is helping people lead stronger and healthier lives through customized stretch sessions. Working with a team of expert Flexologists, StretchLab offers one-on-one stretches that concentrate on major muscle groups of the core, back, shoulders and hips to help alleviate muscle tightness and improve range of motion.
The world's fastest growing functional training network, F45 offers a 45-minute high-intensity, circuit training workout class for individuals looking to meet their health and fitness goals. The workouts are created by the F45 Athletics and Peak Performance Department from a database of over 3,000 different exercises, so members never get the same workout twice.
Berkshire Hathaway HomeServices is a local, full-service residential real estate brokerage firm. The location at Laguna Heights Marketplace helps people find homes for sale, find an agent and learn more about buying and selling a home.
For more information, visit Facebook.com/LagunaHeightsMarketplace.
30311 Golden Lantern in Laguna Niguel.
---
More Greer