Greer's Blog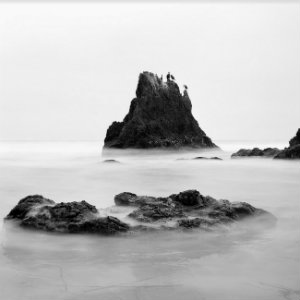 10.05.20
On Sunday, October 11, Laguna Art Museum will open Our Ocean's Edge, an exhibition of photographs exploring the incredible coast of California. The exhibition will be on view during Art & Nature, the museum's annual exploration of art's engagements with the natural world, in November, continuing through January 10, 2021.

Exploring California's 1,100-mile-long coastline through photography and prose, Our Ocean's Edge features black and white images from LA-based photographer Jasmine Swope's quest to capture the essence of California's marine parks. Accompanying the images, author Dwight Holing's prose contributes narrative interpretations of otherworldly landscapes.

California made history with the creation of the nation's first statewide system of ocean parks − a network of 124 Marine Protected Areas (MPAs) stretching from Oregon to Mexico. Like national parks on land, MPAs are magnificent in beauty and wildness while providing protection for wildlife, solutions to climate change, and recreational resources.
Our Ocean's Edge is a photographic documentary project that celebrates these fragile seascapes, from Southern to Northern California, while increasing awareness about their natural benefits and promoting ecological conservation.

Open 11 a.m. to 5 p.m. Monday - Tuesday, Thursday - Sunday
Closed Wednesdays
Closed Fourth of July, Thanksgiving Day, Christmas Eve, Christmas Day, and New Year's Day.

Admission
General admission: $7
Students (18+) and Seniors (60+): $5
Visitors aged 17 and under: FREE
Museum members: FREE
Laguna Art Museum is located at 307 Cliff Drive in Laguna Beach, on the corner of Pacific Coast Highway and Cliff Drive.

---
More Greer