Greer's Blog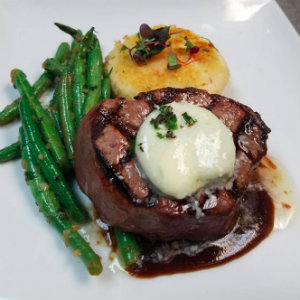 11.20.17
Longtime Long Beach-based restaurateur Ray Lasher is back. He closed his venerable namesake restaurant, Lasher's, in 2012 and has returned to the dining scene with a new concept, Lasher's Kitchen, located in the Belmont Shore area of Long Beach and open Tuesday through Sunday for lunch, dinner and weekend brunch.
"It feels good to be in front-of-the-house again," said Lasher. "The original restaurant was open for 15 years, and I enjoyed every minute of it. I continued working in the restaurant industry as a consultant. Then this location came along and it was a game changer."
Lasher's Kitchen, is a more casual concept than the original Lasher's. The 45-seat restaurant, offers a contemporary design, original artwork, and an intimate wine bar. The restaurant also features a pet-friendly sidewalk patio and a communal table positioned front and center.
The menu has a few dishes, such as the clam chowder, fried green tomatoes, and meatloaf, from the original restaurant, but Chef-Partner Raquel Jubran, better known as Chef Roq, is constantly creating new dishes often dictated by season. The menu is divided into four categories: Shareables, Journeys, Sidetracks and Sweet Destinations.
Chef Roq's signature dishes include Crispy Yuca Fries with banana ketchup and Aji Amarillo salsa, the pastry-filled Savory French Cigar with chicken and bacon ragout, Fleet Street Meat Pie made with braised short rib and root vegetables with a pastry crust, Braised Pork Belly with Cherry Cola Demi-Glace served on a crispy potato cake with tobacco onions, and Asiago and Cheddar Grilled Cheese.
Lasher's Kitchen opens at 9:30 a.m. Saturday and Sunday for weekend brunch, which features an array of morning and mid-day favorites. Social Hour, which takes place weekdays from 2-6 p.m., features a menu of shareable plates and $5 pours of selected red and white wines. Every Wednesday Lasher's Kitchen caters to oenophiles with its "no corkage fee" followed by Prime Rib Thursday for carnivores. Fresh fish also plays a prominent role on the menu.
Open Tuesday-Sunday for lunch, dinner and weekend brunch.
Lasher's Kitchen is at 5295 E. 2nd Street in Long Beach. 562.343.7228 or visit lasherskitchen.com
---
More Greer