Greer's Blog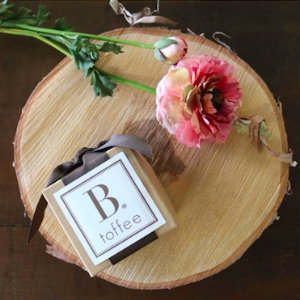 02.09.18
For the sweet-tooth:
B.Toffee, a handcrafted, luxury toffee brand based out of Orange County. Crafted with premium ingredients (savory butter, fine domestic sugars, premium Guittard & Callebaut chocolates, all topped with superior quality pecan nuts) and that can be found in specialty retailers such as the A Market in Newport Beach, Where's the Party? In Costa Mesa, gourmet grocers and through their e-commerce website.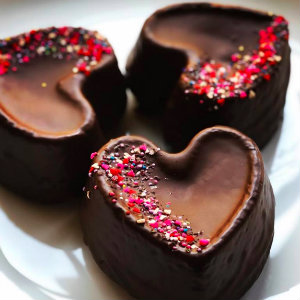 Pastry chef Elyssa Fournier of Mixed Bakery is easily one of the most talented bakers we know. She bakes from home in Corona del Mar and there's nothing she can't create—although fan favorites are her banana and chocolate chip muffins, and her chocolate saussicon is to die for. Choose from meringue kisses, scones, baked doughnuts, tarts, cookies, breads, bars and much more. You can place an order at 949.903.BAKE or elyssa@mixed-bakery.com.
For those who love style and comfort: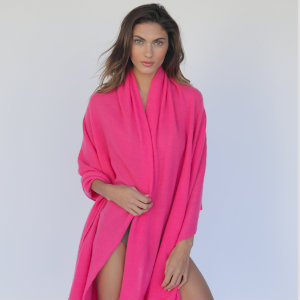 The local luxury cashmere designer, Oats Cashmere makes luxury travel wraps in an array of colors. Free shipping in the U.S. and every package comes nicely gift wrapped. This season is all about color, and you can also find the perfect styles for him!
For the health-focused: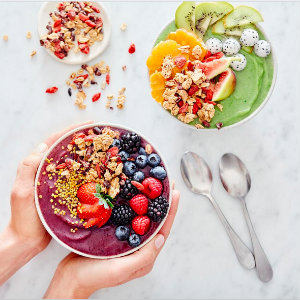 In Laguna Beach – Secret Menu Item for Project Juice: For a limited time, Project Juice Laguna Beach is serving up a super cute Valentine's Day themed gluten-free waffle. For an extra V-day treat, guests can ask for theirs with "Extra Love" for something extra delicious on theirs. This decadent-feeling toasted waffle is perfectly crunchy on the outside, and soft in the middle, topped with silky dairy-free red velvet almond "cream cheese," berries, vegan probiotic chocolate sauce and almonds.
For the out-of-the-box idea, Project Juice subscription:
Project Juice's newest product would be perfect for a busy man or woman (and great for the kiddos) – Sub-Zero Superfoods brings the Project Juice smoothie bar into home kitchens. It's no fuss, no mess, and done in 60 seconds, leaving plenty of time for smooching on V-day. The DIY at-home subscription smoothie/superfood bowl program comes frozen with specially curated recipes that take the time, hassle and work out of daily smoothies. Just pour into a blender, blend, drink/eat. And they are super tasty, and great for sneaking that great nutrition into an everyday routine.
Organic cold-pressed juice deliveries: A sustainably focused company, Project Juice is perfect really for anyone who can appreciate a good dose of health – from the Paleo Crossfitters and weekend warriors, to ultrarunners fueling up for their next race, to the gym-obsessed. Project Juice gift certificates can be purchased online or in-store, and redeemed for 100% certified organic, non-GMO cold-pressed juices, wellness shots, and food items to bolster their everyday health.
E-gift certificates can be purchased online. Available in increments ranging from $25 to $1000 (for online purchase and redemption only). Gift cards are available at in-store locations throughout the Bay Area, Laguna Beach and San Diego.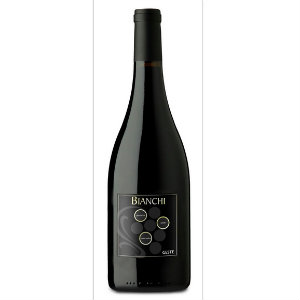 Wine Pairing dinner with bottles from Bianchi Winery:
Bianchi Winery based in Newport Beach, with a Laguna Beach native/resident at the helm, and winemaking and tasting room facilities in Paso Robles. Bianchi Winery creates amazing premium whites and reds that can fit anyone's palate. Bianchi also has a couple of amazing proprietary reds that are super unique. It's GSM Geste is a blend of Grenache, Syrah and Mourvedre that is complex on the palate, with notes of fresh red raspberry, red plum and blackberry. It finishes long on the tongue with a hint of pepper and sweetness of lavender. Bianchi's Syranot is a unique blend of Syrah, Petite Sirah and Pinot Noir that is ruby red and pairs perfectly with an amazing charcuterie or cheese plate. Plus, wine is always a great gift for someone, especially as part of a specially curated wine pairing dinner, because it's a shared experience!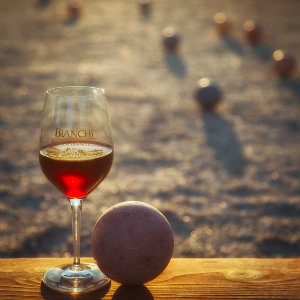 Or how about getting away for a long weekend in Paso Robles?
Experiential gifts are always amazing, and what better one than a weekend away. Really wow your honey by taking her/him out to Bianchi's beautiful property in Paso Robles. Its exquisite Vineyard House, overlooking a waterfall-fed lake is what romantic dreams are made of. Plus, the house is equipped with an awesome outdoor BBQ, so he can grill up steaks while you get to gaze at the countryside of undulating hills and vines. The state-of-the-art tasting room is gorgeous, and gives some fun, on-site. The staff also makes recommendations of what to do around town, as well as can curate really special experiences at request.
Tickets to OCWineFest: Wine, Craft Beer and Charity for the win. Something to look forward to.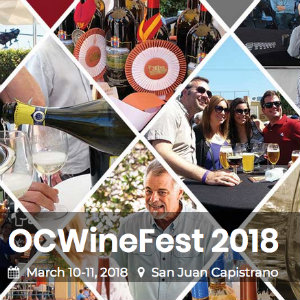 Southern Californians can take advantage of this super thoughtful gift (that both can enjoy, hello!) of tickets to the upcoming OCWineFest, held on the historic grounds of A Stone's Throw Winery in San Juan Capistrano. March 10 and 11. This is great for either the wine or beer lover, with unlimited wine and beer tastings, fun games, chance to relax and hang out at a beautiful outdoor winery .
There's also a an amazing cause to support – OCWineFest's charitable partner is the Leukemia & Lymphoma Society, so you can prove to your date that you have a soft heart for philanthropy as well. More about OCWineFest: After 12 successful years with the LAWineFest in Los Angeles, wine expert and author Dr. Joel M. Fisher brings his festival south, for a laidback event that is open to anyone over 21.
Learn about and sip (unlimited) award-winning wines from around the globe – including from producers out of Israel, Croatia (hello, aged at the bottom of the Adriatic), Hungary, Greece and France, as well as those you might be surprised to learn were grown and made right here in Orange County. Beer lovers need not fret, as the OCWineFest team has specially curated some tasty craft breweries into the mix as well. OCWineFest blazes the trail to bring wine and people together – from the newbie to the aficionado ready for that blind taste – in an enjoyable and accessible way, balancing fun, exploration and education with wine tastings, food pairings, and talks led by sommeliers and winemakers.
The beautiful outdoor space provides elegant surroundings to welcome the incoming spring season with some of the world's most interesting and vibrant wineries, breweries and luxury goods.
---
More Greer