Greer's Blog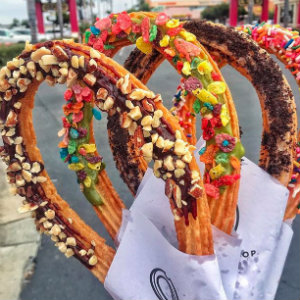 06.23.16
By Asma Mohammed
The Loop: Handcrafted Churros in Westminster celebrated its grand opening recently on June 12 and has had a line out the door everyday since then, and with good reason. The atmosphere is minimalist and fresh, using whites and neutrals for the decor and a blackboard for the menu.
They offer several options for types of fresh, handmade churros. Firstly, four types of base churros are offered: plain, sugar, cinnamon, and cinnamon sugar.
Three options are available for churro flavor pairings: a plain churro with dipping sauce (multiple options including Nutella, chocolate, caramel, etc.), a glazed churro with various toppings (glaze options are: Matcha green tea, white chocolate, milk chocolate, and dark chocolate), or a plain churro with vanilla ice cream and various toppings.
Open noon to 10 p.m. Sunday through Thursday; noon to 11 p.m. Friday and Saturday.
9729 Bolsa Ave. in Westminster. 714.713.8570.
---
More Greer