Greer's Blog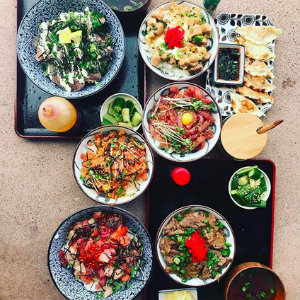 01.02.19
Oak & Coal in Costa Mesa, a traditional Japanese Yakitori eatery, is now open for lunch service with a limited menu weekdays from 11:30 a.m. to 2 p.m. It's a great spot to get in for healthy mid-day meals.
Highlights from the lunch menu include Donburi (rice bowls) served with cucumber salad and soba broth soup. Choose from Kobe Gyudon, a slow-simmered snake Wagyu Chuck with sweet and green onion and ginger; Spicy Tuna Don with yellowfin tuna, green onion, sprouts and Nori; and Oyako Don with slow simmered organic chicken with sweet onion, easy egg, green onion, and ginger. There's also Pan-Fried Dumplings, Yellowtail Katsu Sando, Hot Soba and Cold Soba Salad.

Since it opened two years ago, Oak & Coal has been a favorite neighborhood spot for high-quality meat, seafood and vegetables skewered on a bamboo stick and grilled over binchōtan charcoal. You can start your meal off with Housemade Kimchi Dumplings or Hot Soba Noodles. Then enjoy a traditional chicken skewer or one of the delicacies like Kobe Short Ribs or Kurobuta Pork Belly. Ask your server for current specials and off-menu items.

Happy Hour is from 5 to 6 p.m. and 9 to 11 p.m. Monday to Thursday. Choose from $5 Ozeki Sake and Beer; $6 Well Cocktails & Wine; $10 Sapporo Pitchers and 20% off food. Sunday is all night Happy Hour. There's no corkage on wine from caps and corks or Hi-Time Wine Cellars.
333 E. 17th St, Costa Mesa Unit 2. 949.287.6150.
---
More Greer