Greer's Blog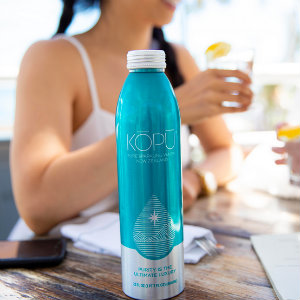 09.06.19
SoCal-based luxury sustainability leader KOPU Water has expanded to the Orange County market with Pelican Hill Resort, Mr. G's at Peninsula Kitchen & Bar and The Butchery, both at Crystal Cove shops and in Costa Mesa. Sourced at the Bay of Plenty in New Zealand, KOPU is packaged in sleek, resealable aluminum bottles that are infinitely recyclable.
In addition to being eco-friendly, the award-winning water also benefits from naturally occurring silica, known as "the beauty mineral" for its hair, nail, and skin-enhancing properties and was recently voted top 3 sparkling waters in the world in the Berkeley Springs International Water Tasting Competition.
KOPU is currently available nationally online as well as in SoCal and New York in grocery stores, hotels, including the Montage Beverly Hills, restaurants and clubs. The brand is gearing up to launch still water in the coming months—expanding the reach of its sustainability mission.
---
More Greer