Greer's Blog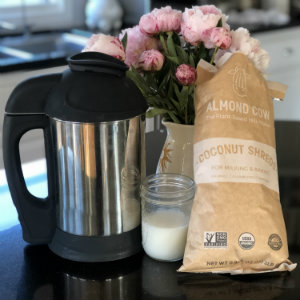 07.06.20
Save a risky trip to the store during the pandemic and make your own plant-based milk at home. It's SO easy. I just made tasty coconut milk at home with Almond Cow.
And Almond Cow will send you organic coconut flakes, almonds, and oats, too.
If you order one at almondcow.co and use code Greer, you'll save 15 bucks.
Ingredients
1 cup Coconut shreds (coconut meat or flakes work as well)
¼ tsp Sea salt
1 tsp Vanilla extract (optional)
3 Dates (pits removed) (optional)
Directions
Place all ingredients in the filter basket. Attach the filter basket to the top of the Almond Cow and twist in the direction of the close arrow to secure.
Fill the Almond Cow base to the MIN line (5 cups) with warm water*, attach the top.
Plugin the Almond Cow and press the cow start button!

It will run through 3 automatic stages. When the green light stops flashing, your milk is ready!
---
More Greer