Greer's Blog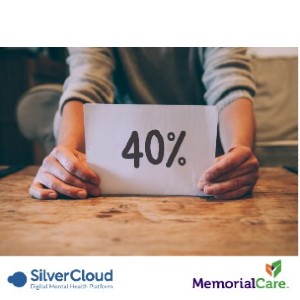 02.18.21
In response to the unprecedented need for mental health and mental wellbeing services during the pandemic, nonprofit health system MemorialCare is now offering a free online resource to not only its patients but to the entire community. The increased access to SilverCloud Health comes on the heels of ongoing reports from the Centers for Disease Control and Prevention that more than 40% of U.S adults are struggling with mental health or substance abuse as a result of the COVID-19 pandemic.
SilverCloud provides an on-demand, virtual mental health platform that offers digital behavioral health care via evidence-based content, programs and support, with more than 1,000 MemorialCare patients having used the platform to-date. Anyone can sign up and customize their mental health program by joining the program directly through MemorialCare, by visiting memorialcare.org/silvercloud.
SilverCloud: Personalized Mental Health Tools, Programs and Support for Individual Needs
SilverCloud's online psychoeducational and therapeutic program aims to help manage anxiety, depression, stress and sleep. Using a blend of online programs – complete with interactive tools and tactics – the platform is customizable and designed to meet a person's unique mental health goals.
"SilverCloud Health is committed to effective mental health care for all, and we are excited to partner with MemorialCare to provide on-demand, clinically validated care to patients who are experiencing mental health challenges now more than ever," said Ken Cahill, CEO of SilverCloud Health. "We commend MemorialCare for offering a safe and confidential proven resource at no cost. Our partnership exemplifies a best-in-class model for digital mental health, which can significantly improve clinical outcomes for patients, enabling better mental health care for all."
With the COVID-19 pandemic severely impacting the community's health and well-being, MemorialCare recently added a new exclusive module – dealing with the emotional challenges caused by COVID-19 – as part of its free offering to the community. Other modules include:
Dealing with anxiety
Managing depression
Managing stress
Building resilience
Sleeping better
By signing up for SilverCloud through MemorialCare, the no-cost program does not require a doctor's order, can be completed at any pace by participants and is accessible any time on smartphone, tablet and computer devices.
---
More Greer