Greer's Blog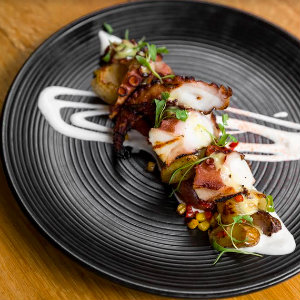 05.15.19
Costa Mesa's innovative restaurant and bar, Mesa, recently acquired a new executive chef! Abad Martinez has always had an affinity for cooking; growing up in in a home where there was always something to be celebrated, he was able to learn about food and make himself comfortable in the kitchen. Throughout his professional years, he has discovered that he enjoys cooking with unfamiliar ingredients and studying uncommon flavor combinations and new cooking techniques.
Most importantly, he believes that consistently learning is key to being a good chef, and looks forward to bringing creative and inventive dishes to the Orange County culinary scene through his executive chef position at Mesa.
The new menu features a variety of dishes, including a bright Hamachi Crudo, savory Corn and Bacon Hush Puppies, Charred Octopus, Ahi Fried Rice, Spinach and Tomato Pizza, beautifully Seared Scallops, a classic NY Steak, along with an assortment of delicious desserts.
725 Baker St, Costa Mesa. 714.557.6700
---
More Greer