Greer's Blog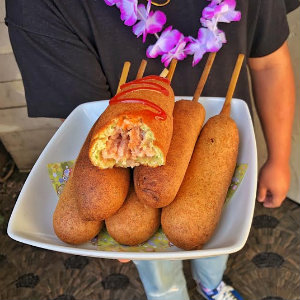 09.03.19
Presented by Foodbeast, this first-ever MUSUBI MADNESS pop-up is debuting at Lono Hollywood for three days only: September 7, 14 and 21. The event will feature a build-your-own SPAM musubi bar showcasing unique musubis that take cues from global fare out of Korea, Mexico, the Philippines, the U.S., and Vietnam. In addition to such deliciousness, the pop-up will include chef-driven items like a SPAM corn dog, a SPAM soft serve sundae and a SPAM-themed cocktail.
The build your own Musubi Bar includes:
U.S. - American Burger Musubi: This recipe replaces a traditional beef burger with SPAM Classic, but keeps the classic 'secret' sauce, grilled onions and American cheese.
Mexico - Chile Verde Musubi: Playing a riff off the classic pork chile Verde, this musubi recipe fries SPAM Classic in salsa verde, topped with queso fresco and sits atop Spanish Rice.
Philippines - Filipino Lumpia Musubi: This version gets a satisfying crunch from crispy, savory Lumpia egg rolls and accompanied by garlic rice, SPAM Tocino, and sweet chili sauce.
Korea - Korean Fried Rice AKA Bokkeumbap Musubi: The highlight of this recipe is the bottom layer which features Korean fried rice, gochujang, kimchi, and green onion.
Vietnam - Spring Roll Musubi: This musubi takes on flavors from a Vietnamese spring roll including cucumber, pickled carrots, egg roll crisps, and nuoc cham, a sweet and vinegary dipping sauce.
Spam-Based Dishes Created by Lono Executive Chef David Lespron
SPAM Corn Dog: A tasty blend of shrimp and SPAM® Classic are encased in a togarashi-infused corn dog batter and topped with banana ketchup.
SPAM Soft Serve Sundae: This unique, build-your-own dessert is a SPAM®-infused ice cream that can be topped with furikake, teriyaki caramel, rum caramel, vanilla-braised pineapples, and candied nuts.
SPAM-themed Cocktail: A play on the famous tiki drink includes rum, pineapple, Cara Cara Orange, coconut creme served over crushed ice in a SPAM® can.
This is a FREE event, but seating is limited so RSVP at foodbeast.com/spam.
LONO Hollywood is at 6611 Hollywood Blvd., in Los Angeles
---
More Greer