Greer's Blog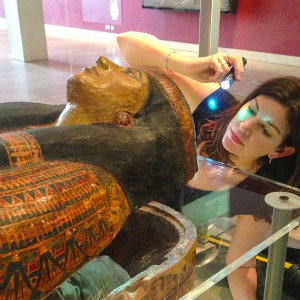 05.13.20
Join The Barclay every Wednesday, now through May, at 10 a.m. PT on Facebook Live for a special stay-at-home experience as they go backstage with some of your favorite National Geographic explorers.
There will be plenty of live Q&A so come curious!
If you can't make the live stream, the recording will be available to view later on the National Geographic Live facebook page.
Kara Cooney on Wednesday, May 13 at 10 a.m.
Bringing a different dynamic to the NatGeo Backstage line-up, Kara will share how she sees the modern world--and how humans respond to epidemics--through the lens of ancient Egypt.
Dr. Kara Cooney is a professor of Egyptian Art and Architecture at UCLA. Specializing in craft production, coffin studies, and economies in the ancient world, Dr. Cooney received her PhD in Egyptology from Johns Hopkins University. In 2005, she was co-curator of Tutankhamun and the Golden Age of the Pharaohs at the Los Angeles County Museum of Art. Dr. Cooney produced a comparative archaeology television series, entitled Out of Egypt, which aired in 2009 and is available online via Netflix and Amazon.
The Woman Who Would Be King: Hatshepsut's Rise to Power in Ancient Egypt, Dr. Cooney's first trade book, was released in 2014 and benefits from her expert perspective on Egypt's ancient history to craft an illuminating biography of its least well-known female king. As an archaeologist who spent years at various excavations in Egypt, Dr. Cooney draws from the latest field research to fill in the gaps in the historical record of Hatshepsut.
Her latest book, When Women Ruled the World, was published in 2018 by National Geographic Press and explores the reigns of six powerful ancient Egyptian queens and how they changed our perceptions of power.
---
More Greer