Greer's Blog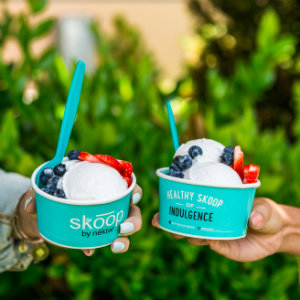 07.06.18
Nékter Juice Bar, the healthy lifestyle brand and pioneering leader of the 100% fresh and clean modern juice bar experience is powering up its menu for summer. Among the menu innovations are new fiber-rich Fusion Blends, Nékter's first vegan Skoop ice cream, an amped-up acai bowl category with a new protein-packed Protein Power Bowl and new functional toppings and boosts.
New Fusion Blends: Nékter has also added three Fusion Blends, an entirely new menu category that fuses a juice with a smoothie by blending entire fruits and vegetables for a higher-fiber and nutrient-dense beverage and ideal meal replacement. The Banana Boost Fusion Blend is ideal for beginners -- made with banana, spinach, kale, apple, lemon, chia seeds, and coconut water. The Slender Greens Fusion Blend is packed with tropical flavors including spinach, kale, cucumber, pineapple, mango, chia seeds, and coconut water blended with ice. The Tropical Cooler Fusion Blend, which combines maximum nutrients and minimal calories, is a lush puree of spinach, kale, pineapple, banana, coconut butter, and coconut water.
First Vegan Skoop Ice Cream: This summer, Nékter also introduces its first vegan Skoop ice cream flavor. Coconut Vanilla is a creamy blend of coconut milk, Madagascar vanilla, agave nectar, and a pinch of sea salt – a healthy frozen indulgence without dairy, gluten or refined sugars at only 160 calories per serving.
Re-Energized Bowl Offerings: Known for its handcrafted acai bowls, Nékter further amps up its bowl options with a new Protein Power Bowl, a nutritional powerhouse boasting 45 grams of protein. The soon-to-be menu favorite starts with a blended base of strawberry, banana, cacao, coconut butter, vanilla hydrolyzed whey protein and housemade cashew milk, and is topped with peanut butter protein granola, fresh strawberry, blueberry, banana, chia seeds, hemp hearts, a scoop of peanut butter, and agave nectar. Nékter further powers up the category with several new fresh and flavorful Boosts and Toppings including pineapple, green apples, vanilla hydrolyzed whey protein, and peanut butter protein granola.
Orange County Nekter locations include:
1620 San Miguel in Newport Beach. 949.220.2535
4237 Campus Drive in Irvine. 949.608.4763
126 Main St., Ste. 102 in Huntington Beach. 714.465.5889
3333 Bear St. in Costa Mesa. 949.340.2700
7101 Yorktown Ave. in Huntington Beach. 657.845.2004
6793 Quail Hill Pkwy. In Irvine. 949.566.8851
7631 Edinger Ave. in Huntington Beach. 714.465.5888
2937 El Camino Real in Tustin. 657.269.8135
6258 Irvine Blvd. in Irvine. 949.258.7160
26731 Aliso Creek Rd. in Aliso Viejo. 949.537.2990
23612 Rockfield Blvd. in Lake Forest. 949.892.6037
3959 Portola Pkwy. In Irvine. 949.315.2255
3505 E Chapman Ave. in Orange. 657.217.3048
28391 Marguerite Pkwy. In Mission Viejo. 949.267.3940
32371 Golden Lantern in Laguna Niguel. 949.353.5100
27726 Santa Margarita Pkwy. in Mission Viejo 949.416.8307
25672 Crown Valley Pkwy. in Ladera Ranch. 949.940.5045
5655 E. La Palma Ave. in Anaheim Hills. 714.386.1300
30893 Gateway Pl. in Rancho Mission Viejo. 949.226.6123

---
More Greer