Greer's Blog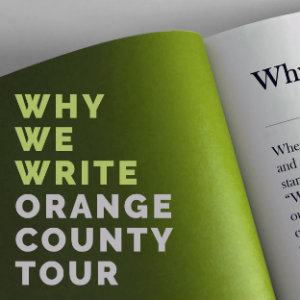 04.17.18
1888's Why We Write: Orange County Roadshow highlights creative purpose and necessity in Orange County. Taking submissions from across the globe, this essay series stands as a manifesto to why writers put pen to paper. Each essay is less than 500 words, and everyone is invited to submit and share their work. Why We Write essays will be performed by invitation or through actors for international authors who can't make the trip.
The Why We Write project was inspired by George Orwell's 1946 essay "Why I Write." 1888 developed this program to highlight our motives for writing and asked the community to share their story and join the conversation. Over the last month, this collaborative project received submissions from Australia, Bangladesh, Canada, Denmark, England, India, Indonesia, Israel, Malta, Nigeria, Pakistan, Peru, Scotland, Singapore, United Kingdom, and 33 States in America.
The events will feature author readings from curated essay submissions and will be recorded for audio podcast and a special video documentary. Below is a list of events in Costa Mesa, Anaheim, and the City of Orange:
The LAB, Anti-Mall, Costa Mesa
Wednesday, April 18 / Free 7 p.m. - 9 p.m.
Cooks Chapel, Packing House, Anaheim
Wednesday, May 16 / $9 7 p.m. - 9 p.m.
Wednesday, June 20 / $9 7 p.m. – 9 p.m.
This 1888 Roadshow is produced in partnership with Community Engagement, Anaheim Packing District, and The LAB.
---
More Greer