Greer's Blog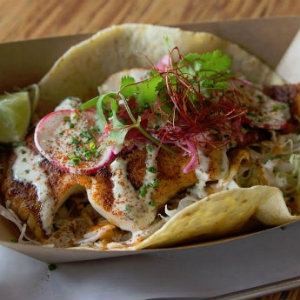 03.18.20
Slapfish Extends Kids Eat Free Promotion & Encourages Delivery
Slapfish is offering take-out or delivery. The modern seafood shack and its sister restaurant Raw Bar by Slapfish in Huntington Beach has delivery for its six Orange County locations through Postmates, DoorDash, Uber Eats and Grubhub.
In addition, Slapfish has extended its Kids Eat Free promotion to all day, seven days a week. Typically only available on Wednesdays, Gruel wanted to offer the community a kind gesture while families cope with kids who are suddenly and unexpectedly home from school. The promotion provides one free kids meal with the purchase of another menu item. Kids items include a Kids Fish Taco, Fish Bites (a mini Fish & Chips), Grilled Shrimp Bowl, Salmon Quesadilla, Chicken Tenders, Chicken Taco or a Cheeseburger.
Known for its fresh, high quality and sustainable seafood, Slapfish has locations in Huntington Beach, Irvine, Tustin, Laguna Beach, San Clemente and Brea. Customers are encouraged to check online for individual store hours.
South County Options at Kaleidoscope
Kaleidoscope's Riptide Rockin' Sushi & Teppan Grills, one of South County's most popular sushi restaurants, is open for take-out with curbside pick-up, their own delivery service or through Doordash or Uber Eats. The Mission Viejo restaurant will be open nightly, except on Mondays and Tuesdays. Visit their website or call them at 949.282.0181.
RTE (Ready to Eat) BBQ, also located in Kaleidoscope, will also remain open, only for take-out orders and delivery through DoorDash and Grubhub. RTE is known for its delicious barbecued skewers, with a variety of meat and vegetarian options, as well as ramen and more.
Pizza Party From the Pizza Press
The Pizza Press is open for take out and delivery through Postmates, Doordash and Uber Eats. The Pizza Press has multiple locations in Orange County and Southern California, including Irvine, Costa Mesa, Rancho Santa Margarita, Santa Ana, Tustin, Anaheim, Orange, Fullerton and Brea.
Known for its array of fresh and high-quality ingredients, The Pizza Press allows guests to create their own custom pizza on a traditional thin crust, or the new option of a Double Dough thick crust for a $2.50 upgrade.The Pizza Press also offers signature pizzas including The Times (extra virgin olive oil, mozzarella, chicken, grape tomato, red onion, and finished with fresh cilantro and Sweet Baby Ray's BBQ Sauce), The Tribune (red sauce, mozzarella, pepperoni, red onion, mushrooms, roasted red bell peppers, sweet Italian link sausage, olives and ricotta), The Chronicle (extra virgin olive oil, mozzarella, imported artichoke hearts, grape tomato, red onion, cremini mushrooms, roasted red bell peppers, and finished with fresh basil and basil pesto) and others.
In addition to custom pizzas, diners can also enjoy traditional wings served with buffalo, BBQ, or mango habanero sauce, a selection of custom or grab-and-go salads, and fresh-baked cookies.
For a complete list of Pizza Press locations click here.
Whitestone - Dana Point
Explore the world through the global flavors of co-Executive Chefs Tony Celeste and Nick Herrera without ever leaving Dana Point. Whitestone Restaurant is offering curbside takeout. Escape from the norm with innovative flavors of the Americas, France, Italy, Japan, and more. The restaurant is offering kids menus to takeout and curbside pickup. To place your to-go and curbside pickup orders call 949.489.8911
34212 Pacific Coast Highway in Dana Point.
Scarlet Kitchen & Lounge -- Rancho Mission Viejo
The family-owned restaurant helmed by Executive Chef-Owner Paige Riordan has introduced curbside pickup and to-go orders to accommodate community diners and local families. Enjoy comfort classics like Liquid Gold, a family recipe of pork and lamb ragout with pappardelle, their heirloom recipe for Clam Chowder, and Lobster Grilled Cheese with bacon onion jam. They will also offer special kid-friendly offerings to go. To place your to-go and curbside pickup orders call 949.503.3086
30865 Gateway Place in Rancho Mission Viejo.
Mutt Lynch's -- Newport Beach
Mutt Lynch in Newport Beach continues to offer its iconic menu to-go via curbside pick up - available from 11 a.m. - 7 p.m. daily. The restaurant is also delivering through platforms including DoorDash, UberEats, Postmates, and GrubHub. To place your to-go and curbside pickup orders call 949.675.1556 and visit muttlynchs.com for delivery.
2300 W Oceanfront in Newport Beach.
---
More Greer