Greer's Blog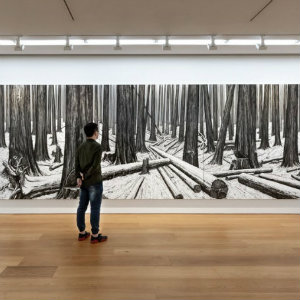 11.02.18
The Orange County Museum of Art (OCMA) will host a special community open house to celebrate the opening of OCMAEXPAND-SANTA ANA on Saturday, Nov. 3. The free event will feature artist talks, performances, live music, and food trucks as the museum welcomes guests to experience its new temporary space at South Coast Plaza Village.
Exhibiting artists Rodrigo Valenzuela, Mariángeles Soto-Díaz, Valentina Jager, Alan Nakagawa, and Kathryn Garcia will offer talks and performances. OCMA's Open House will also feature performances from VENEER and The Aquadolls, presented in association with Burger Records, and visits from The Taco Cartel and Il Caccia Caffé.
The schedule is as follows:
1 p.m. Rodrigo Valenzuela | Gallery Talk Join the artist for a walkthrough of his exhibition American-Type and learn more about the rigorous process of making the work.
2 p.m. Mariángeles Soto-Díaz | Gallery Talk Discover the references that inspired Soto-Diaz's exhibition, Everyday Grappling Operations.
2 p.m. PM VENEER | Live outdoor set
2:30 p.m. Valentina Jager | Gallery Talk Discuss the ideas behind Jager's exhibition, the face the mouth the back.
3 p.m. Alan Nakagawa | Peace Resonance: Hiroshima/Wendover, Gallery Talk and interactive sound performance Feel the vibrations of sound through a dynamic presentation by Nakagawa of his audio compositions recorded at the vibrant Hiroshima Atomic Dome in Japan and the Wendover Hangar in Utah, from where the Enola Gay B-29 left to drop atomic bombs on Hiroshima and Nagasaki.
3:30 p.m. The Aquadolls | Live outdoor set
4 p.m. Kathryn Garcia | Gallery Talk, Performance with Jen Sotelo.
Join Garcia in an artist talk about her exhibition, gone, gone way beyond, followed by Movement, Embodiment and the Female Form, a performance with dancer Jen Sotelo.
Admission is free.
Hours: Thursday 11 a.m. to 8 p.m. and Friday – Sunday 11 a.m. to 6 p.m.
South Coast Plaza Village, 1661 W. Sunflower Avenue, Santa Ana. 714.780.2130
---
More Greer