Greer's Blog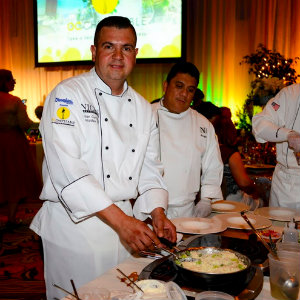 03.16.17
On March 12, 2017, thirty-two of the county's top chefs came together at the county's most exclusive culinary fundraiser at Disney's Grand Californian Hotel and Spa, to participate at Illumination Foundation's 2017 OC Chef's Table. This over the event raised over $680,000 for the construction of a new emergency house for homeless families with children.
Every dish, libation and extravagant decoration was designed and donated by the chefs and restaurants with the intention of making the night unforgettable for every guest and raising funds for Illumination Foundation's Emergency Home. Each table burst with colors, textures, decorations and smells. The tablescapes all ranging in shapes and sizes Some restaurants chose simple yet meaningful centerpieces, such as Anchor Hitch's Bonsai trees representing their environmentally-conscious and one-with-nature cuisine style.
Other restaurants exhibited extravagant 5-foot decorations filled with hanging fruits, vegetables and flowers. Some even displayed delicate and impactful flowers, such as poppies, known as a symbol of remembrance of soldiers who have died during wartime. Antonello Ristorante even featured a plethora of live Beta fish in their magnificent centerpiece, while Nick's Restaurants' tall flower chandelier featured Illumination Foundation's symbolic "IF," representing the foundation's mission of shedding light on the growing homeless population and a flame of hope those in the ballroom give to our most vulnerable homeless families and children.
Illumination Foundation is currently working on acquiring the land and garnering partnerships to build a new emergency house in the coming year, which is expected to house over 200 homeless families with children.
---
More Greer