Greer's Blog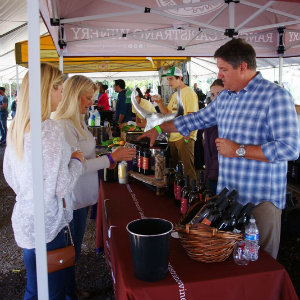 03.20.18
Guests braved the rain and shine at last weekend's OCWineFest, which took place on the historical grounds of A Stones Throw Winery in San Juan Capistrano. Almost 1800 guests sipped more than 200 wines, mingled, danced, nibbled bites and learned about award-winning wines from around the globe over the course of the weekend – tasting wines from as far away as Israel and Hungary, to those made right in our backyard of Orange County.
The six craft breweries on tap were a hit among the crowd, which spanned demographics, showing that the enthusiasm for the wine and beer community is strong in Orange County. Blazing the (Orange County wine) trail to bring vino and people together – from newbies to aficionados – OCWineFest balanced fun, exploration, and education in one place.
The overriding theme of the event, however, was spreading awareness for the Orange County chapter of the Leukemia and Lymphoma Society, an organization near and dear to OCWineFest organizer, Col. Sean Magee, also an LLS survivor.
A second OCWineFest event is in the works, with dates TBA. Stay tuned at ocwinefest.com. LAWineFest will take place June 2 and 3 at The Row in Downtown Los Angeles. More info at lawinefest.com.
---
More Greer