Greer's Blog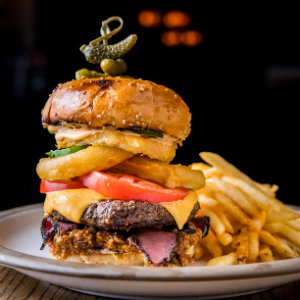 07.12.19
This month, Orange County will experience its inaugural Burger Week from Sunday, July 14th through Saturday, July 20th. Presented by The Fork Report, the event highlights burgers from nearly 60 participating restaurants countywide. Diners will be able to explore a variety of burgers, ranging from classic to creative, featuring various proteins from beef to plant-based, on menus priced at $10, $15 and $20 and luxe burger menus at $25.
Burger Week menus from participating restaurants online at burgerweek.com.

Collaboration Burgers---Nearly a dozen participating restaurants feature a collaboration burger co-created by their Chefs and Neil Saavedra, host of The Fork Report! These burgers showcase over-the-top burgers made with ingredients ranging from pork belly, pork pate and brisket, to grilled Spanish octopus, Angus prime Entraaña (skirt steak) and dry-aged beef & bacon patty! See the complete list of collaborations online at burgerweek.com.

Cocktails of Burger Week---More than 20 participating restaurants have created Burger Week cocktail specials guaranteed to enhance your burger experience! The Cocktails of Burger Week feature Effen Vodka, Maker's Mark, Cruzan Tequila or Hornitos Tequila – take a look at the complete list of cocktails online at burgerweek.com.

For general information, or to learn about participation or sponsorship opportunities during Burger Week, please visit burgerweek.com.
---
More Greer